Robotics UIL 2016
Tags: outreach and journal
Personhours: 100

By Ethan, Evan, Lin, Darshan, Jayesh, Janavi, Trace, Max, Tycho, and Omar
Task: Compete in UIL Robotics in Austin
A bit of background: UIL is a Texas-specific organization that hosts competitions in both academic and athletic pursuits. This year, they ran a pilot program for Robotics, using the FTC rules and field from Res-Q. About 72 teams competed in the FTC-based competition, which then was split into two catagories. Unlike regular FIRST tournaments, the awards not earned by competition are given through nomination by other teams.
Mentor Recognition Award
Leadership Award
Creativity in Design Award
Gracious Professionalism Award
Play of the Day Award
Safety Award
Team Spirit Award
On Wednesday, July 27, the team came down in a charter bus, with the MXP. That night, we did some last-minute working on the robot. [insert image here] The next day, we woke up early, and headed down to the Austin Convention Center. We pitched a tent and blow-up couch, and generally set up. We used the competition as an opportunity to
promote our twitter
. The first match, we did horrible. Our robot dug itself into the ground as if it were near the trench-lines of WW1. After giving us its best WW1 re-enactment, it started jettisoning parts, similar to how a Space Shuttle jettisons its external tank. Matches 2-5 were mostly uneventful. We only won two of them, but there were no similar dramatic happenings like match one. After match one, we atttempted to present our team to other teams, as we brought in a TV. A quick list of notable things that happened in this time period were:
Bringing one of the 3D printers inside and printing parts
Making a last-minute climber-holder
A bird flying into the convention center
Our presentation computer updating to Windows 10
Our robot falling off the mountain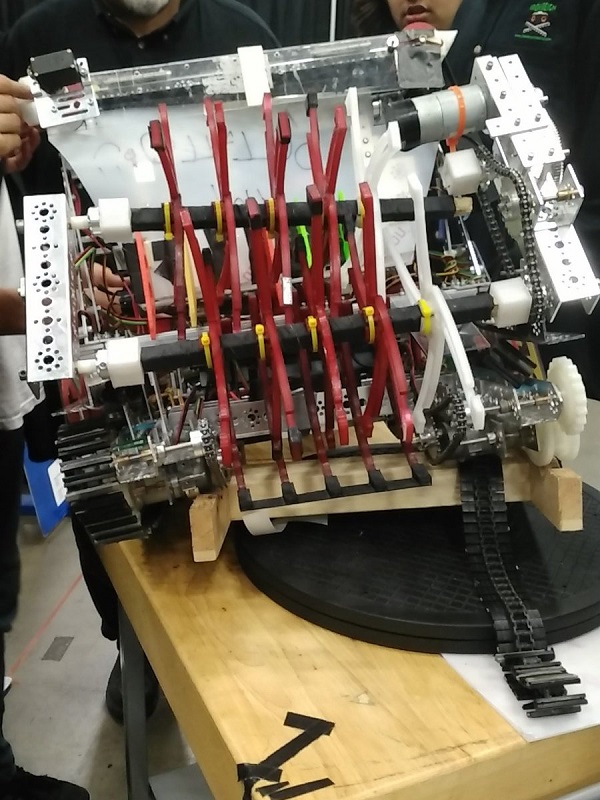 On Friday, we were not picked to be in the final matches, and unfortunately, we were not picked for any awards. We did, however, meet up with our school's FRC team and say hi, as their competition was starting. After the awards ceremony, we decided to leave. On the way back to the hotel, we noticed the Texas Workforce Commission building, which is one of our sponsors. So, we parked our RV up by the side of the building, and walked in. We talked to the receptionist, and within a few minutes, one of the TWC execs came down to talk to us and take pictures. We gave them a tour of our RV as well, and they seemed impressed, even if it was in post-tournament disarray.
Commissioner Hughs visited with the @FIRSTinTexas Robotics @team6832 today to discuss the #UILRobotics #robotroundup pic.twitter.com/ZhOlTngI9h

— TXWorkforce (@TXWorkforce) July 29, 2016
Reflections
While this tournament was not our best tournament by a margin the size of the Mongol Empire circa 1279 C.E., we were able to interact with teams in Texas that we normally would not have, get exposure for the MXP all the way down I35, and talk to our one of our sponsors in person. As well, it gave us experience for the future and was a great teambuilding activity. If we get invited to UIL next year, we know what to do to win.
Date | August 1, 2016