South Superregionals Day Two
Tags: Outreach, Organization, connect, and think
Personhours: 132

By Max, Tycho, Omar, Jayesh, Darshan, Austin, Charlotte, Lin, Evan, Ethan, and Janavi
Task: Reminisce on our first six Superregionals matches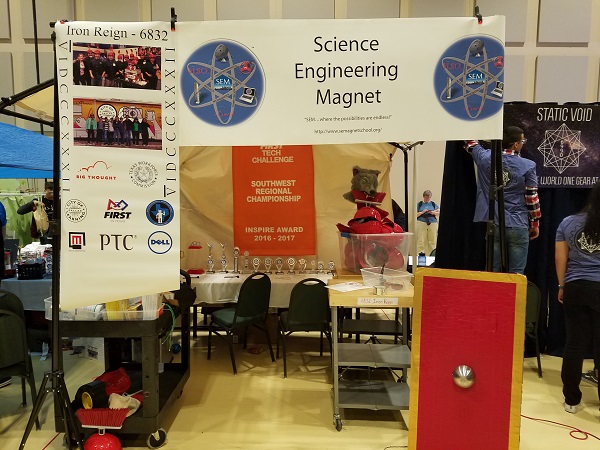 After a decent night's rest, we began Day Two at around 7 AM. A lot of our tools and materials were still on our RV, so we first moved them over to our pit. Our match schedule said that we'd have nine matches beginning with Match #1 (just our luck). After the...interesting Pokemon-themed opening ceremonies, we began the day with our first match.
Match 1: Our alliance partner was Thorn's Army, and we faced Greased Lightning and Guzzoline Robotics. We lost; we didn't earn as many points in autonomous or teleop. It was our first game anyway; just a warmup. No big deal.
Match 2: Our alliance partner was Saber Robotics, and we faced Aperture Science and The Prototypes. We lost; tied in teleop, but our autonomous didn't score as much as theirs. Warmup game #2, no big deal.
Match 3: Our alliance partner was 4-H Rohming Robotics, and we faced Team Duct Tape and Twisted Axles. We won; even though neither of us were able to cap, we nailed our autonomous and teleop periods.
Match 4: Our alliance partner was Static Void, and we faced East Cobb Robotics and Team CHAOS. We won; our autonomous didn't score as much (we missed a beacon and a ball), but our partner was able to cap and our combined teleop scored more.
Match 5: Our alliance partner was LASA MurPHy, and we faced Diatomic Dingos and Blue Crew, Too. We won; our autonomous worked great and scored well, which made up for our lackluster teleop period.
Match 6: Our alliance partner was Technical Difficulties, and we faced the Rockettes and LASA Ultra Violet. We won; once again, our autonomous worked great (we missed a ball though), we scored more particles in teleop, and our partner was able to cap. Four in a row!
We felt pretty good about this day, since we came off of a four win streak. However, we still worked as long as we could on improving the reliability of our autonomous. Once the pits were closed, we were directed to the team social, where there was Super Smash Bros. and DJ Mickey Nightrain. It seemed like a fun time (Tycho tried his best at professional Smash), but roboticists usually aren't the type to be out on a dance floor. Jayesh is an exception because he's weird.
As well, we were interviewed by a few groups of judges, and performed well in the interviews. We froze up a few times, but it worked out. Also, we invited some of the judges onto our RV.
Reflections
Even though we were able to do a lot of work this day, we're slightly disappointed in our tiredness. Even though the RoboBisons had brought an entire field with them, we didn't really think about asking them to let us use it to practice. We were very exhausted, and with a half-still-sick Mr. Virani, we think we just weren't enthused enough to stay up late and do some more work. If we had, we might've had the small bit of reliability we needed to win more matches with just our autonomous. ;-; Either way, we're proud of the work we did. Tycho did a great job driving for all the matches. Note for next year - we neeeeeeeed more than one driver. On to Day Three!
Date | March 24, 2017