NSTA 2017
Tags: connect, business, outreach, and mxp
Personhours: 120

By Ethan, Evan, Lin, Jayesh, Omar, Tycho, and Charlotte
Task: Expose our MXP to teachers nationwide
Background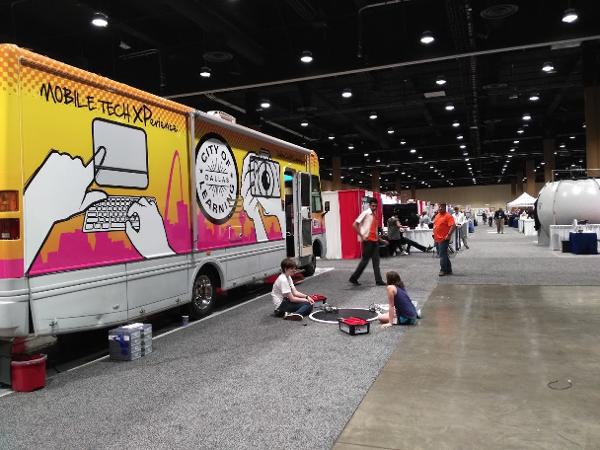 For readers who don't know what the MXP is, here's a quick description. Our coach had been floating the idea of a mobile STEM lab for a while, and he was finally given the go-ahead and some money by his company, BigThought. Originally, he planned for buying a van and loading it with tech, but like all true Iron Reign projects, it grew quickly. It turns out that a used RV and a van are roughly the same price, and why not go all out if you can? So, we ended up with a RV old enough to drink sitting in our coaches' driveway. Of course, to convert a RV with outdated shag carpet and a Sea View insignia on the dashboard into a state-of-the-art mobile tech lab, you need free labor. And, where else to get free labor than 11 robotics nerds who have nothing better to do with their summer?

That's where we, the robotics nerds with nothing better to do with out summer, come in. We ripped up the shag carpet, destroyed the bathroom and bedroom, and laid new flooring and installed tech workstations in every part of the RV possible. And along the way, Best Buy, BigThought, and Dallas City of Learning caught wind of our project and gave us grants, allowing us to install four 3D printers, 40 laptops, and 10 EV3 Robotics Kits to educate kids.
The purpose of this is to deliver STEM programs to under-privliged kids in the Dallas area, in hopes of inspiring them to go into STEM fields. As well, the MXP can help close the summer achievement gap, where kids in lower economic brackets tend to forget more over the summer than richer kids. We're also targeted towards middle schoolers - they're of the age where they're learning that they probably won't be an astronaut, and showing them alternative options that are still interesting is extremely important.
Aboard the RV, we run two programs. In front and/or outside, we teach kids EV3 programming to compete in a sumo-bots competition. While kids won't be able tp directly learn from the EV3 programming language, they can take the abstract skills they learn from programming the robot and apply them to other programming and learning endevours later in life. In the back, we teach kids how to 3D model using Google Sketchup, and allow them to create and print their own keychain to take home as a keepsake.
The Trip
The NSTA Convention is a meeting of teachers from all over America and 12 other countries to hold seminars, panels, and presentations for teaching certificates. We were invited there due to our work on the MXP and its success in Dallas. We worked on the floor of the convention, with booths from various companies and agencies also presenting.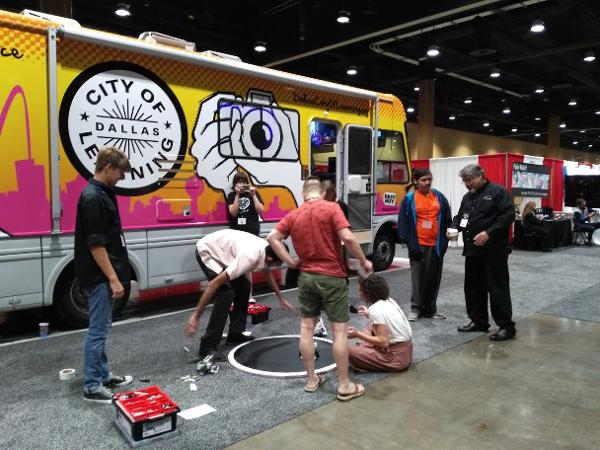 We started our trip to Kississime, Florida at 8:40 in the morning, way too early for us high school students in the summer. It was a long, boring drive. The highlight, or anti-highlight of the drive is that halfway through our first day, we started billowing black smoke as we pulled off the interstate. We pulled over on a residential farm road in the middle of nowhere. Luckily, we were assisted in our engine troubles by a guy who happened to see us pull over across the road from his house. He helped us fix our engine and drove our coach to the mechanic's, and we were on our way yet again.
Our first day at the convention was a quarter day. We started at the convention at 4:30p, and ended at 6:30. Despite our limited time, it was probably our most productive day. We talked to over 150 teachers from all over America about our experience building and manning the MXP, and gave advice on building their own. We also allowed the teachers to make and print their own keychains if they wanted.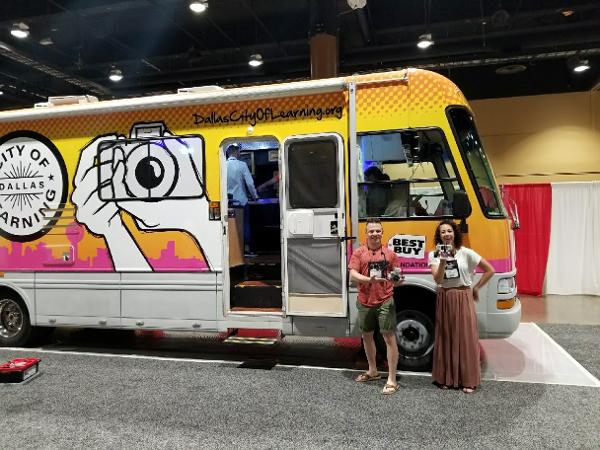 Our second day was just like the first day, but four times as long. We brought our Argos, our color following robot. We recently fitted him with a new power distribution module by REV Robotics so that we could test it out before the new season. As well, Argos is our Vuforia-testing robot, so we demonstrated that ability too. Our coach also presented on a panel that day. As a finale to that day, we got to see Veritasium's presentation on "The Power of Un".
On the last day, we didn't present to as many people, but we got to have better and more in-depth discussions with everyone who came onboard. We had teachers that designed keychains and programmed robots for over an hour. As well, we presented to the president of the NSTA.
On the way back, we had to engage in one of three Florida pasttimes, and we didn't want to get arrested or get eaten by an alligator. So, we settled on the less permanetly damaging option, and went to the beach instead.
Reflections - One Last Ride
The convention was a roaring success. I estimate that we talked to about 400 teachers from all over America. We can say that we probably inspired teachers from 4-6 other cities to start research and development on building their own RVs. Also, we talked about running a FTC team to interested teachers and FIRST in general.
Even though, this trip was bittersweet. This was the last Iron Reign trip with the original senior members. Lin and Jayesh have been on the team for over one-third of their lives, and this was their final ride as members of Iron Reign. I, personally, have worked with them since 4th grade - one-half of my life! And, as all last rides go, one must find happiness that it was a good one, and that it ever happened. Lin and Jayesh have been great advisors and friends, and they deserve the best of luck in college and in the real world.
Date | July 15, 2017