MXP Event at LV Stockard Middle School
Tags: outreach, motivate, connect, and mxp
Personhours: 12

By Charlotte, Kenna, Tycho, and Austin
STEM education for children and their parents at a DISD event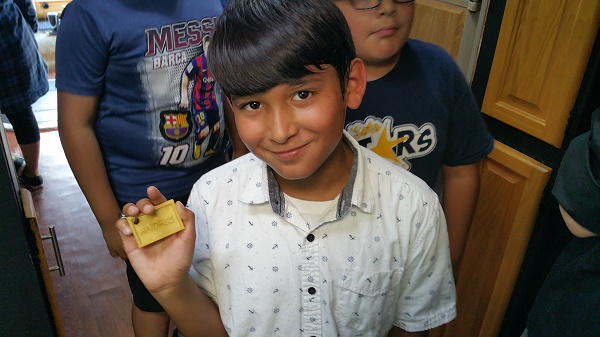 Earlier this morning, we drove the Mobile Tech Experience RV to LV Stockard Middle School and participated in a DISD event. We served around 250 kids, ages ranging from preschool to middle school. The morning started off slow, but as the day went on, the MXP became more and more crowded. Our spot was near the food and snack area, so lots of families came through after getting breakfast or lunch. We had a sumo field set up outside the vehicle and many people would stop to watch the robots fight, who we would then invite onto the vehicle and teach them how to program these robots themselves.
Like our previous event at Conrad High School, this DISD event was purposed to help kids discover activities that they may enjoy and want to do as an extracurricular. This was a great opportunity to spark interest in STEM in these kids and we answered any questions about who our team is and how they can join or start a robotics team at their school.  The kids rushed in in groups and were very excited to get started with the activities that we provide. A highlight of this specific event was a group of young folklorico dancers who came to learn 3D modeling, as seen above. When a group such as that comes in, it both forces and allows us to practice our teaching skills. Instead of teaching individually, we show the kids how to 3D design step-by-step on a large tv screen donated to us by Big Thought.
This rush of people happens at a lot of events that we cater, and these rushes can get very chaotic, but as a team we agree that it is this chaos that is the most fulfilling once the event ends. Being able to teach these kids and see their faces once they have accomplished something using the knowledge that they just acquired is the most gratifying part of serving on the Mobile Tech Experience.
Date | September 23, 2017