Spring Cleaning in the RoboDojo
Tags: organization and think
Personhours: 36

By Janavi, Evan, Ethan, Austin, Tycho, Karina, Charlotte, Kenna, and Abhi
Task:
A few weeks leaving for our Oklahoma competition we assembled a large garage tent upon the pool deck and moved our field inside the tent to shield it from the weather. The night before the competition we moved in a projector so we could project see the code on the wall and left it there when we went to Oklahoma. We were very surprised when we came back to Dallas around midnight and found the canvas that was supposed to be covering the tent crumpled in the corner of the backyard and the frame of the tent on its side resting again the tree as you can see in the photo below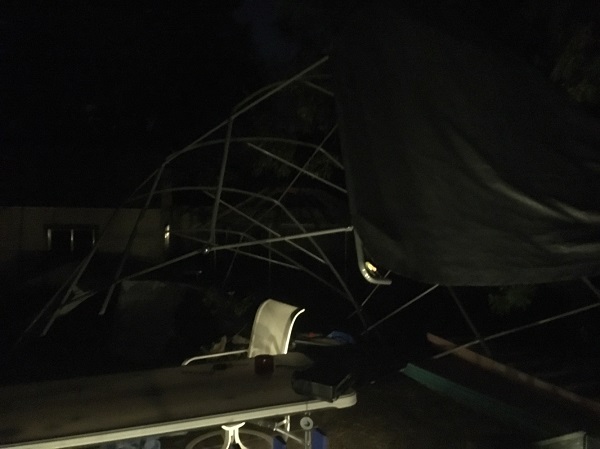 But what surprised us the most was that nothing that we let upon that table was disturbed at all, the projector lay in the same spot and even a glass of water we had left hadn't moved an inch.The next day we came back, well rested and finally wrestled the RoboDojo back from the grasps of the tree and bolted it down to the pool deck to prevent any future mishaps.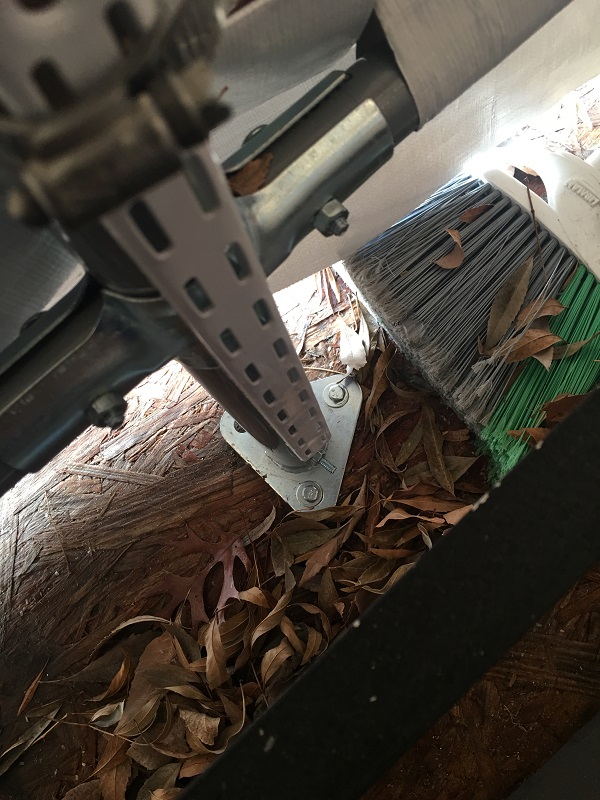 After that we started to move robotics stuff outside and Max placed a board hole onto the wall with hooks so we can hang up the tools for easy access.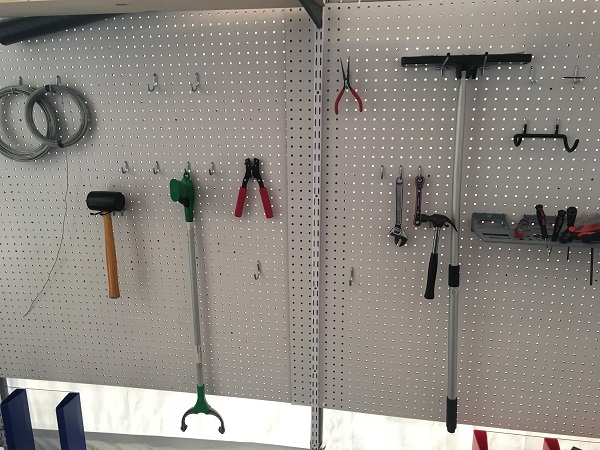 We moved out all shelves that overflowed with boxes upon of boxes of robotics parts to the RoboDojo. Our plan is to move all of the robotics building out to Dojo that way we have easy access to the field and don't have to constantly move in and out to test. To start the move we labelled shoe boxes with bright orange tape to organize all of the tools and parts ,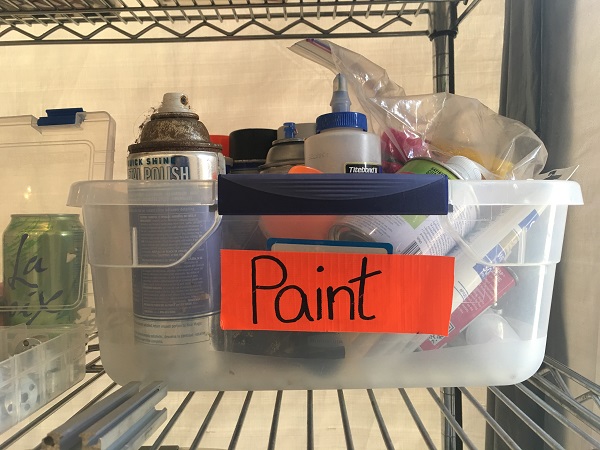 after that we started sorting through the shelves someone exclaiming almost every five minutes " I was looking for that last time! ". Eventually after getting most of the big items sorted we worked on organising the smaller items like hex keys and nuts into grid containers.
Reflections
Making this big move has really helped us not only with organization but it has allowed us to do a deep clean of all the robotics parts, we sorted thorough all of our old motors and battery and found some that either didn't work any more or were outdated. This is very important to do periodically because it allows us to make more space and it eliminates the chance of us bringing broken battery to competitions. Moving all of the items outside has taken us a while and we are still currently still moving items outside but so far it has had an immediate effect, our two teams have been able to do more testing and we are able to spend less time searching for stuff ever since we organized. Since this has been so helpful to our teams we might plan to make this a yearly occurrence, during summer or after our season ends we can spend two weekends completely reorganizing the Dojo.
Date | November 24, 2017