Oklahoma 2017 Post-Mortem
Tags: journal and think
Personhours: 1

By Ethan, Evan, Tycho, Austin, Janavi, Kenna, Abhi, Charlotte, and Karina
Task: Recap what went right and wrong in Oklahoma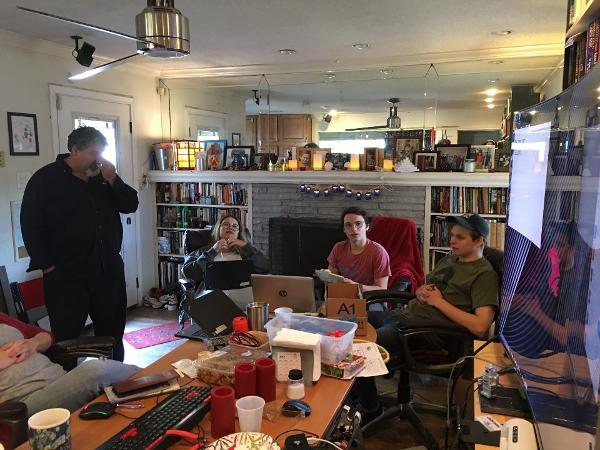 Even though we did very well in the Oklahoma qualifier, we still encountered several problems, that if not addressed, could lower our chances of getting to Super-Regionals. So, we had a team discussion on what to do differently in the next tournament, and what to keep constant.
Problems
Time management
Our time management was Not Good. First, we had trouble coordinating with different parts of the team, which lead to disorganization. As an example, we nearly missed judging because we had to go to inspection, then we nearly got DQ'd from several matcvhes because we kept going back to the practice field instead of queuing. So we need to clearly schedule when to go to practice field and when to not, as well as coordinate the judging, inspection, and other important events.
Referring to coach
We didn't realize that the judges were judges in the pit and one of our members refered to our coach for help, which probably hurt our chances.
Preparedness
First, on the robot side, we hadn't prepped for inspection the night before, so we had to be in a rush the day of to get ready. As well, we still hadn't made a coherent model of our robot in Creo by OK, which hurt our judging chances. And, we didn't emphasize the design process enough.
Presentation
For some reason, our robot kept glitching out *only* during the presentation, which hurt us. And even though our presentation was better than last time, we still had a lot of pauses that could've been remedied easily with more practice.
Robot Stability
While our robot worked pretty well during the first 5 rounds, once we hit the final rounds, our robot started shutting down and being hard to operate. We still don't know the reason, but we're currently diagnosing now.
To-do
Static-proof robot
Fix wiring
Organize journal for award
3D Model
Expand engineering section
Build 2nd field
Shock mount robot
Date | November 27, 2017