North Texas Regionals, 2018
Tags: journal, connect, and think
Personhours:

By Ethan, Evan, Abhi, Tycho, Janavi, Charlotte, Austin, Karina, and Kenna
Task: Win at the North Texas Regionals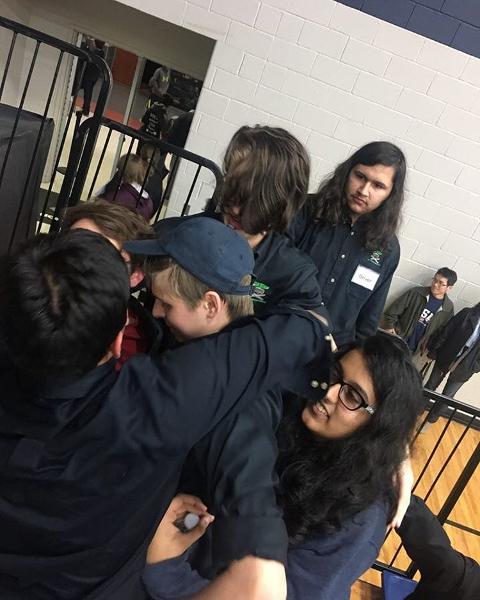 Introduction
All over the city, lights turned on. In each house, a member departed, on their way to a secretive location, Iron Reign headquarters. Each member entered the HQ, took a parcel, and boarded the equally secretive
Iron Reign Mystery Bus
, on our way to an even more undisclosed location, the North Texas Regional, at Wylie East Highschool.
Inspection
For the first time this season, Iron Reign breezed through inspection. There were no issues with sizing, we had all of our signs and warnings attached, everything was good. It was so good that there's not really anything left to say.
Presentation
Earlier this week, we practiced our presentation with our new SEM principal, and did a pretty decent run. We still had issues, i.e. running overtime & switching off between parts, but it still impressed our principal. However, we wanted to do better. We had a brainstorming sesssion and talked with past judges, and found that if you make your presentation a little more enertaining while still keeping the necessary information, your presentation will stick in the judges' head for longer. So, that's what we did. We added pieces that improve it just a little, some informative (juggling balls representing the engineering process), and some for our sake (miming being trapped in Iron Reign for 9 years). But, these changes definitely paid off. As well, we fixed our timing, leaving 3 minutes for questions, and fixed some gaps. However, we still did stutter and stumble a bit, but the overall quality of our presentation outshined our mistakes.
Scouting
Robot Game
While we spent all night adding parts and doing mechanical fixes, we should have also spent time fixing our code due to these changes. But, we didn't, so we spent the first three matches trying to debug our code and fix unexpected mechanical issues with the grabber.
Match 1
We lost this match. We hadn't practiced with the new gripper, and on top of that, the Octopuckers 3.0 didn't perform as well as we expected, resulting in a disappointing loss that we really shouldn't have.
Match 11
We also lost this match, most of our code issues were fixed, but we encountered an unexpected mechanical issue with our grabber - it caught on a small piece of plastic that stopped it from engaging fully.
Match 14
We had everything working in this match, but we were simply outperformed. This match really served to show us that we needed to improve in all aspects of the game.
Match 23
We won this match! We were pretty dejected over the past results, but our drivers strapped up and give us the W.
Match 27
We also won this match by a large margin, due to our great performance, and also due to a robot on the other alliance not working. There are those times where everything seems to fall in place just perfectly, and this was one of those times. We had really good scouting, and we were able to worm our way into alliance with the 4th seed, allowing us into the semifinals. This helped give us the boost we needed for awards.
Semi Match 1&2
We lost, badly. We were simply outperformed, and this taught us we need to improve.
Ceremony
We walked into the ceremony uncertain. We had done well in judging, but we were iffy with our performance in the robot game, and thought that our performance had cancelled out any benefits of the Think and Innovate awards. However, we were able to show our design and engineering process well in additional questions, and the judges seemed pleased with the answers. As well, we answered a question about gracious professionalism that really impressed the judges. In the ceremony, we were awarded several small awards, and the 1st place Connect, but we needed a higher award to advance. Then, we heard 2nd place Inspire...goes to team 6832!
Date | February 10, 2018