Oklahoma State Regionals 2018 Postmortem
Tags: think
Personhours: 9

By Charlotte, Ethan, Tycho, Austin, Janavi, Abhi, Karina, Kenna, and Evan
Task: Evaluate our strengths and downfalls at Oklahoma State Regionals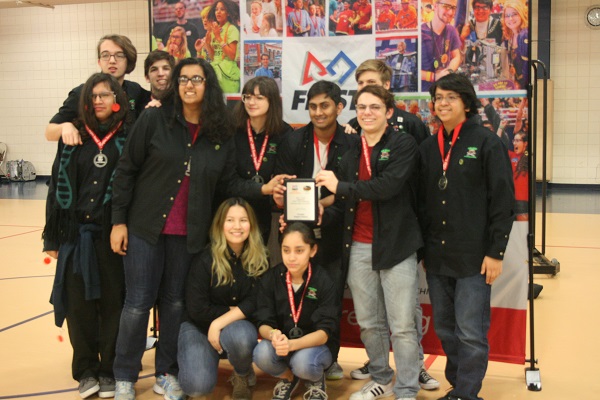 It wasn't a great regional, but it wasn't a bad one either, it was an OK Regional.
Preparation
Strengths Because we had already been to North Texas Regionals, we were one step ahead of the teams in OK that hadn't been to a regional yet this year in that sense. We already had everything in some sort of order from North Texas, so we were prepared for the challenges we know we will encounter at a competition at the regional level.
Weaknesses We left the engineering journal in Dallas. If it weren't for our chaperone, we would have had to re-print all 300-400 pages of our engineering journal in Oklahoma. This is the worst example of us not following the checklist when packing up our vehicle. Also, we left polycarbonate, so we had to go to Walmart and use the lid of a plastic box for the polycarb pieces on our robot that needed replacement. Because we had already qualified, we were not as serious in our preparations as we could have been, and that cost us in the robot game.
Opportunities In this competition, we 3D printed keychains to hand out to teams (pictured below). We started this process a couple of hours before the competition, so we only had enough to hand out to our alliance partners. A lot of teams also had extravagant pit setups, so during Super Regionals we should strive to set ourselves apart in the pits, especially since a large part of judging occurs in the pits.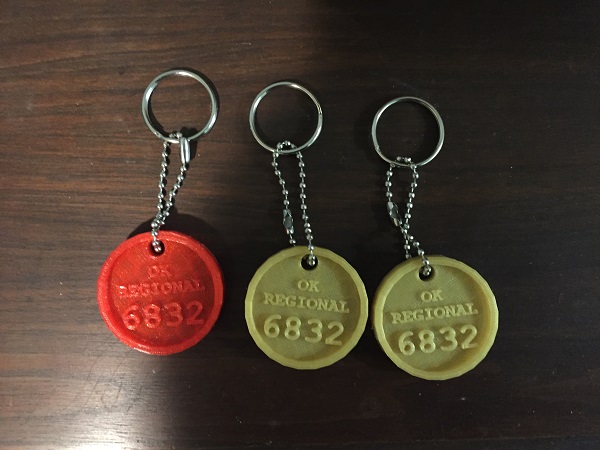 Threats As always, a large threat is lack of urgency for the competition in the days leading up to it. We only had one week to prepare and we will only have two weeks to prepare for Supers, so our head has really got to be in the game in the days leading up to it.
Judging
Strengths In the presentation room, there was a great environment and our presentation flowed more as a conversation than a lecture. The judges were curious about some of our accomplishments, like our REVolution system and the RV, and interrupted us during the presentation to ask questions. This made us feel more relaxed and the presentation ran very smoothly. Unlike last time, we had enough time to demo the robot and show off its capabilities. Also, a lot of judges visited our pit and we were able to show many of them to our Mobile Tech Lab.
Weaknesses We didn't mention to the judges that we have already qualified, which would have been helpful for us as we won't have been seen as a threat to Oklahoma teams. Also, we added many parts to the presentation on the day of judging, so we were less practiced on those parts.
Opportunities Now we have the opportunity to refine the parts that we added to the presentation so that it flows smoothly with no awkward breaks.
Robot Performance
Strengths Our autonomous is where we do best during matches, especially the jewel portion which we did successfully every match. When it worked, the internal lift was helpful in making out game and although we didn't score a lot of glyphs, we were consistent in getting 1.5 columns every time. With practice we could continue that consistency but with more columns.
Weaknesses Our robot performed decently, but the grabber was slow and we never got more than 1.5 columns. The internal lift broke many times throughout the day. Because we changed the grabber recently, we mounted the phone in a position that it can't read the target so that it places the glyph in the correct column and didn't have time to fix it. Also, we were one of the few teams without a relic arm which I think hurt us in both our success in matches and in not getting picked for an alliance. We won all of our matches except for one, but that was mostly due to luck which we can't count on at Supers.
Opportunities Our grabber system is now at v.5, which is the old lift (the one we used in OK) but on a conveyor belt system that flips it to either side of the robot. We think that this grabber is going to be our best and hopefully, paired with a lot of drive practice, is going to significantly improve our robot game.
Threats
The robot game was strong in Oklahoma. There were many teams that had working relic arms and we witnessed the 3rd highest score in a game this year. It will be even stronger in Super Regionals, so in order to qualify for worlds we need to really up our robot game while maintaining our potential for awards.
Scouting
Strengths We were able to make some connections with teams that we are going to see in Georgia for Super Regionals and further practice our communication with other teams.
Weaknesses We did a poor job in advertising our robot to other teams and were not picked for alliances despite our decently high ranking after the qualifying matches (12th place). We have had a lower ranking and been picked before, so we need to start scouting earlier in the games and form connections with competitive teams so we have a chance to get picked.
Opportunities For Supers, we are going to prepare handouts, like flyers, keychains, and pins to give to the other teams and make our name known. Also, at this point in the season there is a lot of data for each team, so we can get a lot of the scouting done before the competition. We can also prepare our spreadsheets or whatever method we choose to use to get information from the teams at the competition.
Date | February 24, 2018