South Super Regionals Day One, 2018
Tags: outreach, organization, connect, and think
Personhours: 66

By Ethan, Evan, Kenna, Charlotte, Austin, Karina, Janavi, Abhi, Tycho, Justin, and Christian
Task: Set up and present at SSR 2018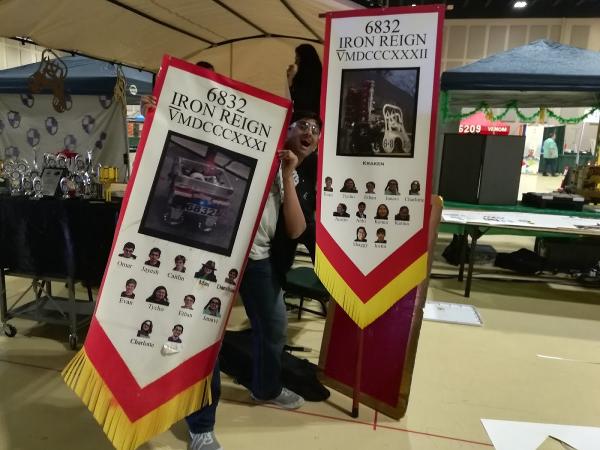 A placid stillness hung over the dark, cold room. The early sun flashed through the pale window curtains, ineffective against the onslaught of light. Outside, birds started to chirp and sing, starting off the new day. All over the city, teams were waking up, walking to the Classic Center (the Thunderdome of Robotics), to see their fate, either as champions of the last ever Super Regionals, or to go home defeated and never again see the light of Dean Kamen and his vision. However, through all of this movement and energy, this hotel room stayed quiet. Slowly, a beeping slowly grew more loud, blaring its morning call throughout the room until no one could deny its existence. In spite of the warm and soft Holiday Inn™ beds calling their users back to slumber, the team members had to wake, under the threat of death by coach. Thus started the journey of Iron Reign's 2018 Supers.
The Pits (Setup and presence)
This day marked the first official day of the 2018 South Super Regionals, the last one ever being held. With FIRST moving to the Qualifier-Reigional-Worlds system, we wanted to make a good impression and show off, and thats exactly what we did. First, we overdesigned a robot that impressed judges and looked nice to other teams, as well as making sure we had little goodies to hand out. But, we really worked on our pit presence, to make ourselves really known to other teams. We made posters detailing Iron Reign's season and hung them up; we brought LEDs and lights to give our tent that good old rustic Roman Feeling™; we had business cards to hand out; we went around and talked to other teams and took pictures of their robots. All of this served to make it feel as if Iron Reign was really *there*. While this eventually proved ineffectual to get picked, this still was a good strategy - it got us noticed - and we will feel its effects at Worlds. We still could've done more with the pit setup though, it would've helped to find a place for posters and the like beforehand, and we ran into some placement issues of our robot and award carts that irritated the safety officials. But, overall, 9/10 would do again. (We will)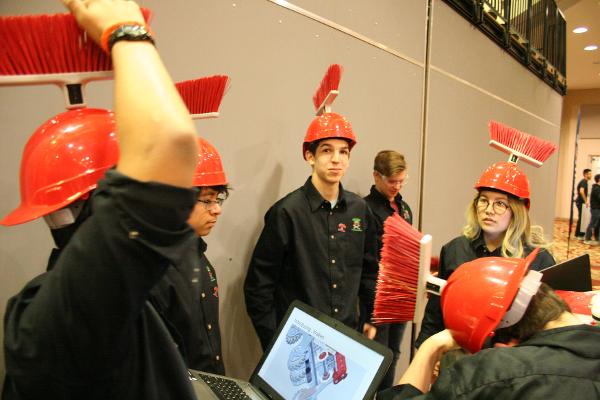 Judging
Our judging didn't go that well. Our presentation was fine, we still had breaks and pauses like usual, and we got the majority of information across, but we didn't deliver on important information correctly. Our energy was a little low, we had a power outage while going over our outreach which distracted the judges, and on top of that, the judges' paradigms were a little closer to the engineering side of things. Now, this isn't necessarily a bad thing - having a skewed mindset makes a judge more likely to defend for some awards - but for an outreach-heavy team like ours, we were at a disadvantage for the Connect and Motivate awards. In the questioning, we only had one connect-related question, with the rest on Innovate and Design, so we knew we probably wouldn't be up for our usual awards from the get-go, which is a shame as we've gotten the Connect Award at every level of competition this year.
That was the end of the night, so like all Good and Responsible Teams™, we went to bed early and got enough sleep to be rested for the next day /s.
Date | March 8, 2018