2018 Worlds Day Two
Tags: outreach, organization, connect, and think
Personhours: 132

By Ethan, Evan, Kenna, Austin, Charlotte, Abhi, Tycho, Karina, Justin, Janavi, and Shaggy
Task: Compete in robot game
It was the beginning of Day 2. Our members rolled out of bed, covered in old Fiesta receipts and Chipotle wrappers. One by one, they stumbled onto their charter bus, unprepared for the new day.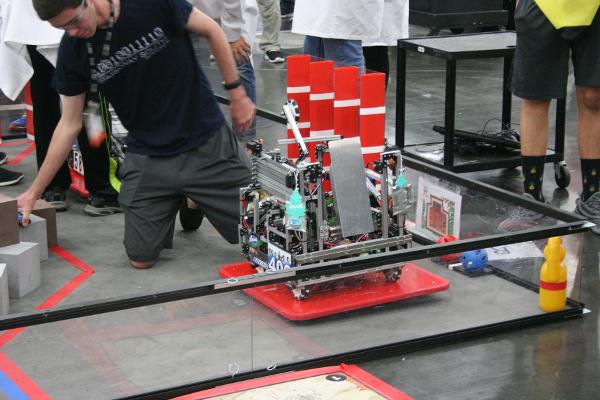 Game 26
We lost this match, 213-401. Our robot wasn't working reliably on the field and we were still debugging issues. Because of this, there was only one true competing robot on blue, and it couldn't keep up against two bots.
Game 34
We won this match, 428-172. Both us and our partner had high-scoring autonomii and teleop, and we were able to score the relic while our opponents weren't.
Game 55
We won this match, 484-405. We were about evenly matched, but we were more than pushed over the top with the 180 penalty points from the other team. However, we were partnered with RedNek Robotics, the top team at the tournament, so we should've done better than a slight penalty win.
Game 73
We won this match, 459-441. At this point, we had gotten in the groove and were actually competitive in the robot game for once. We got 200+ points in autonomous *and* teleop, a feat that we'd never done before. While our competition was equally matched, we had a slight initial advantage that was never overcome.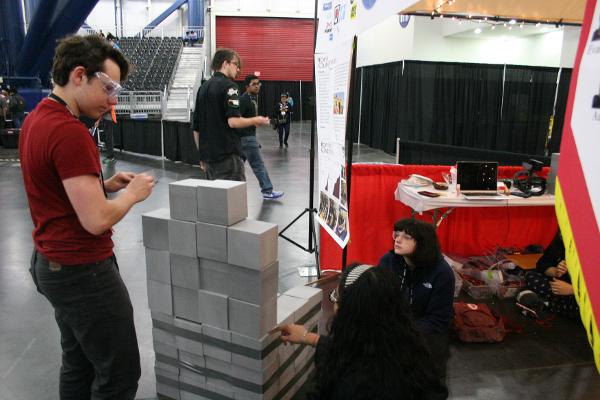 We also entered the block design competition this day. AndyMark released a form on their Twitter a few weeks before to enter, and we requested 64 blocks. We settled on a throne design, using a bread carver to add more details. We had teams from all over gravitate to our pit to sit in our chair and get help in their own designs.
Date | April 19, 2018