Moon Day 2018
Tags: outreach and motivate
Personhours: 26

By Karina, Ethan, Janavi, and Charlotte
Task: Reach out to the community and spread the magic of robotics
Iron Reign had a great time today at the Frontiers of Flight Museum for the 2018 Moon Day. We demoed three of our robots today: Argos, Kraken, and Big Boi. Kids were very interested in watching our robots drive. Big Boi was a fan-favorite because of its speed and the attached can launcher. Kids were also given the opportunity to drive Argos around. We were also able to interest kids in FTC when we explained Kraken, our robot from the previous season and demonstrated how it could pick up glyphs. In total, we spoke to approximately 200 individuals.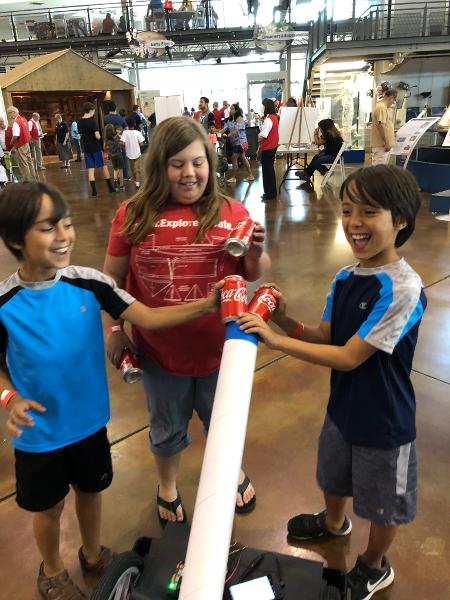 Besides driving our finished robots, we made progress on Garchomp, another robot with mecanum drive serving as a replica for Kraken. We explained our design to people and why we like the mecanum drive so much. Many parents were interested in getting their children involved in a robotics team because they could see the build process at its middle stages in Garchomp and as well as the finished product in Kraken.
Next Steps
Here at Iron Reign, we value the community's interest in robotics. We will continue to make ourselves and our robots accessible to the community at future outreach event, and we will also encourage kids to get involved in STEM.
Date | July 21, 2018