Chassis Flyer
Tags: think and design
Personhours: 1

By Ethan
Kraken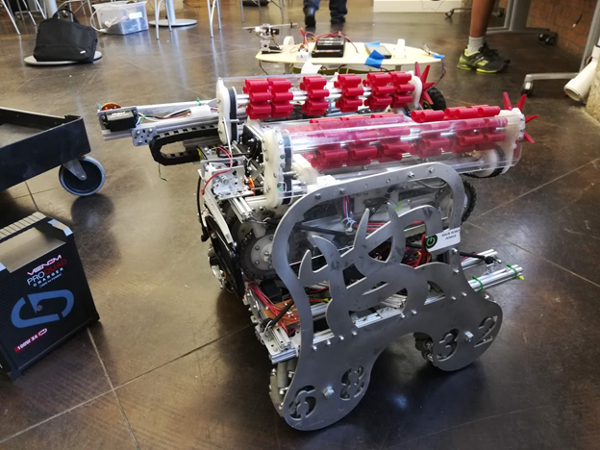 This is Iron Reign's world-championship robot from last season. The basic rundown is this:
Weight - 42 lbs
Size - 18x17.8x17.5 inches
Drive - Mecanum
Main parts kit - REV
Iron Reign uses two design processes in conjunction with each other to create efficient and reliable parts: iterative, continual improvement and competitive design.
An example of these design processes working in conjunction is the process of designing our cryptobox intake system. One person had the idea to build an arm-style grabber seen on many current competition robots. His design, however, included shorter arms for space's sake and a more compact lift system than normal. The second person decided to build a unique conveyor-belt system which used friction to hold blocks in space and move them vertically. Through the competition, we determined that the prior design was more efficient and took up less space than the latter, so we settled on his design, adding in a linear slide for lifting at the end of the process. Then, Kaizen comes in. Through firsthand experience in scrimmages, we learned that the grabber system isn't as reliable as we thought when first testing. So, we have designed a new grabber system that moves like the arms did previously, but also rotate with soft spikes attached to hold blocks with friction better without damaging them.
As this soft-spike system ceased to perform to our expectations, we looked to other mechanisms to pick up and deliver blocks effectively. We created a new grabber that still used the rotating systems of the soft-spike, but instead, we used custom 3D printed "octopuckers" which had a much tighter grip on the glyphs. As well, inside the gripper, we created a custom "lift" made out of NinjaFlex so that the blocks could be moved up and down internally in the gripper, eliminating our need for stacking.
Later, we further improved upon the grabber design, attaching it to a conveyor belt so that we could move glyphs all across our robot in order to score higher, using our REVolution system. This is the most ambitious use of our REVolution system yet, and we strongly encourage the reading judges to view it at the pits.
BigWheel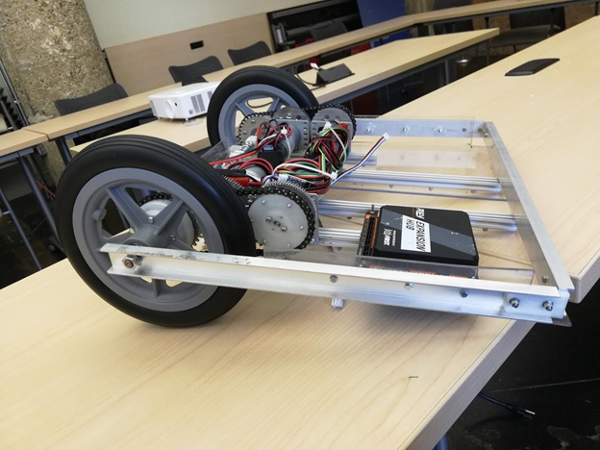 The main purpose of this robot is to see if larger wheels will give us an advantage in the competition. Right now, we're guessing that the competition field will have debris, and we hope that the large wheels will perform better in this environment.
Size: ~18x18 in
Wheels - 8in large, regular omni wheels in front
Part System: Custom parts
Garchomp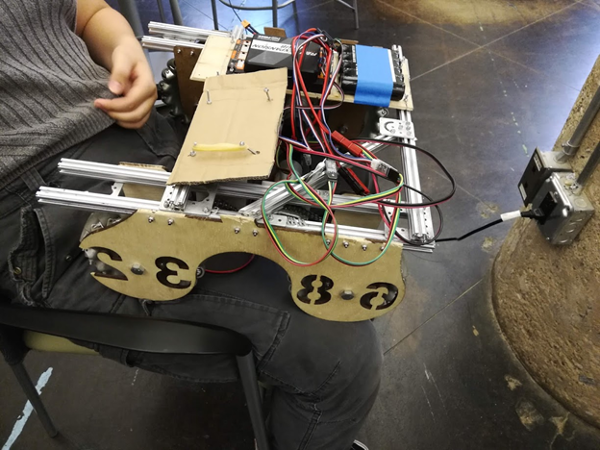 For skill development we have newer builders replicating the chassis portion of our competition robot (Kraken). This one will not be weighed down by the additional upper structure of the competition robot and so should be a closer comparison in weight class to most of the other chassis designs under consideration here. Garchomp has a simplistic design and is nothing more than mechanums, rev rails, motors, sprockets, wires, and a rev hub. The large mechanums are held together using side plates from the 2017-18 competition season. These are geared up to neverest 40:1 motors.
Size: ~18x18 in
Wheels: Mechanum
Part System: REV
Motors: Neverest 40:1
Date | July 22, 2018