Summer Chassis Project - July Meeting
Tags: outreach, connect, think, and design
Personhours: 24

By Kenna, Ethan, Charlotte, Karina, Shaggy, and Abhi
Task: Compare & Collaborate on Chassis
At Big Thought's offices in downtown Dallas, three teams met. Technicbots (Team 8565), EFFoRT (Team 8114), Schim Robotics (12900), and Iron Reign are all part of the North Texas Chassis Project. The goal is for each team to create any number of chassis and improve their building skills by learning from the other teams.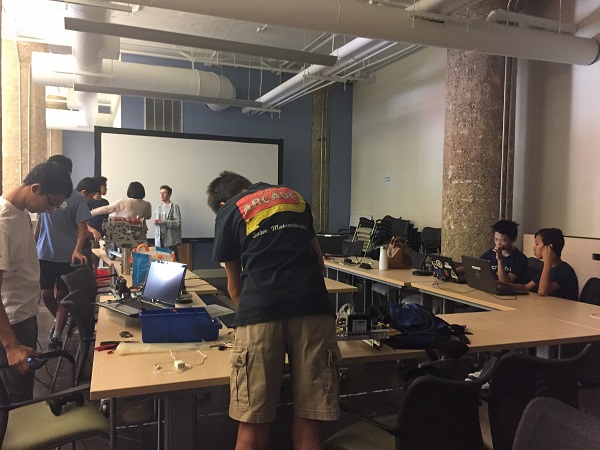 The meeting began with an overview of all teams' progress. Each team presented their thought process and execution when creating each bot and discussed why/how everything was done. At the end, we all reviewed the rule changes for the 2018-19 season. Once all questions had been asked and answered, testing began.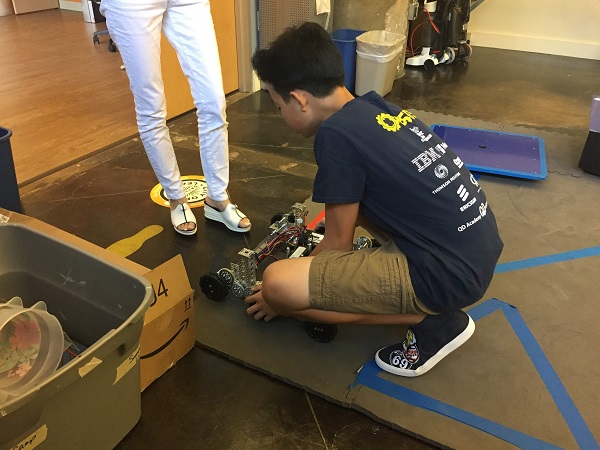 Austin Lui of Technicbots gets their chassis ready for testing.
Using leftover tiles from last season, we set up a small field in Big Thought's blue room. Technicbots provided a ramp to do enhanced testing with. All teams plan on testing:
Forward speed
3 second turn
Up/Down ramp
Balancing stone
Weight-pulling
Straight line drift
90/180° turn offset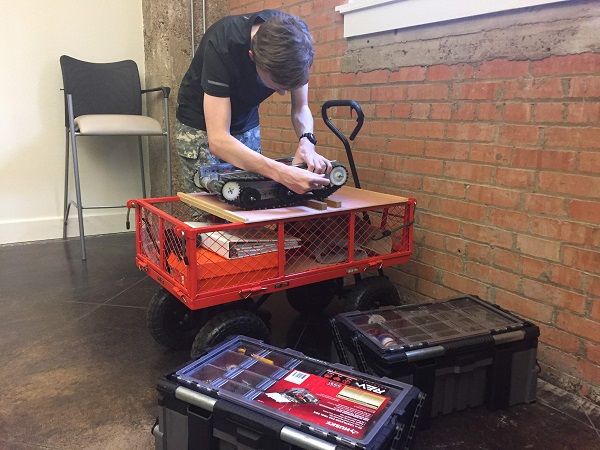 Connor Mihelic of EFFoRT adds some finishing touches.
We know from Google Analytics that our website has about 200 visitors a month but we rarely meet the people who read and use our blog posts. Today, we got to meet the mentors of Team 12900 from a middle school in Plano, TX. When they and their students were starting out as a team, they utilized our tutorials and journal. Apparently their teams members are avid followers of our team, which was very meaningful to hear. Some non-FTC friends visited as well and were introduced to cartbot.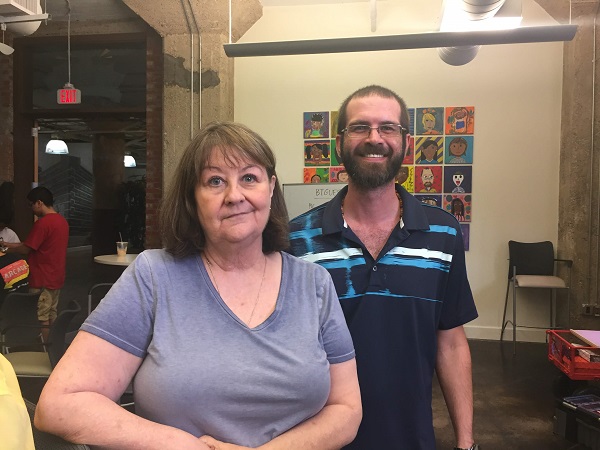 Terri and Grant Richards of Schim Robotics.
Next Steps
Using what we learned from the other teams, we will begin to improve all of our chassis. Most of them are at varying levels of completion so now we want to concentrate on getting all of them to the same level of functionality. Garchomp is, notably, the most behind so he will be getting the most attention from here on out.
Date | July 22, 2018