Organization!
Tags: organization
Personhours: 2

By Charlotte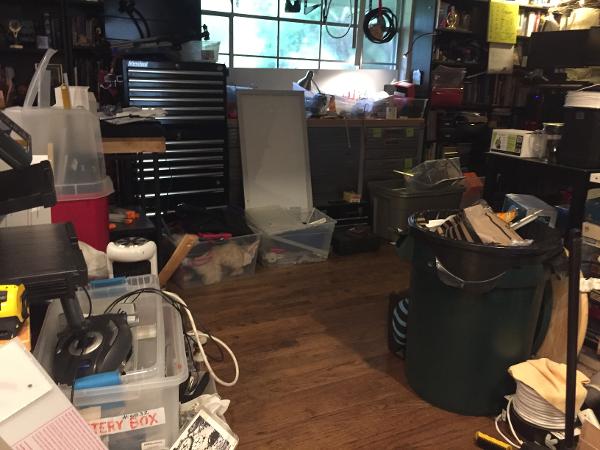 Iron Reign Clutter
One of Iron Reign's greatest weaknesses is the organization of our physical space. It is rare that our workspace is free of clutter, and it is always difficult to find tools or parts that we need. We often joke that when we put an item down it goes in a "black hole," and you won't be able to find it again. This summer, however, we have made a system to tackle this problem and this season we hope to maintain it. We cleared out the front room and set up some shelves and got to organizing. For anyone looking for certain tools or who doesn't know where to put a tool they just found or used, use the article for reference.
This is subject to change, but as we begin the season, here is the current shelf organization:
In the tall black set of drawers, you can find these tools and parts:
Top half:
Omni Wheels (on the very top)
Drill Bits
Dremel & Exacto knives
Wrenches
Screwdrivers
Allen Wrenches
Bottom half:
Servos
Torque wrench
Bolt cutters
Tap & Dice set
Extension Cords
In the silver drawers on the right side, you can find these tools and parts:
On the very top, you can find miscellaneous electronics.
Left Side:
Pliers
Sprockets
Motors
More motors
Right side:
Measurement tools & testers
USB Adapters (OTG cables)
Hardware (screws, bolts, nuts)
Wire
Zip-Ties
In the colorful drawers on the left, you can find these tools and parts:
Left side:
Mini USB cables
Old motor/servo controllers
Nuts
More mini & micro USB cables
Shaft collars
Servo cables
Middle:
Motor mounts
Chains
Bevel gears
Tubing
Fabric paint
Adhesives
Grease
REV hardware
Right side:
Brackets
Springs
Files
Measurement Devices
Sandpaper
Hand Drills
Dremel Kits
Rubber Bands
We have a long way to go, and we need to put organize these drawers even more and maybe soon label them. If anyone has any questions ask Evan or me (or Tycho if he's home), and make sure you put things back after you use them!
Date | August 25, 2018