Mini Mecanum Chassis
Tags: design, think, and innovate
Personhours: 14

By Janavi and Justin
Task:
Over the summer, we designed many robots for the North Texas Chassis Project, including one based off of last year's Worlds robot, Kraken. The robot chassis had 6" mechanums. But, based on what we know about this years challenge we have decided that this chassis does not utilize the 18-inch cube effectively.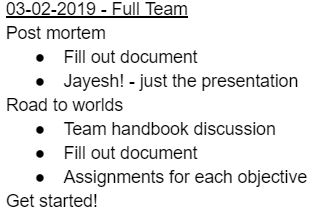 We have chosen to design a chassis that is similar in function to Kraken, but smaller in size with 4" mecanum wheels.
Our plan is to design a low-lying 6" x 6" robot, a marked difference from the usual 18". However, this new design means that many of our 3D printed parts are unusable on this robot; for example, our former wheel mounts are much too large for the new robot and wheels, as well as their corresponding axles.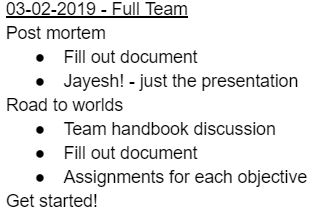 These bearings are hexagonal, requiring a new wheel mount design.
Justin first designed the axle plate below to solve this, but it raised the robot off the ground quite a bit, risking debris becoming stuck under the bot. As well, it was flimsy - it was mounted too far from the robot. We went back to the drawing board and brainstormed various methods we could use to attach the axle the frame in a more secure way; we found that we use a pillow block design would save space, while also having a lower-lying robot. This design worked out beautifully, leading to the design we are currently using.
The axles and wheels aren't the only new thing about our robot: we've switched to NeverRest 20s in lieu of our normal 40s and 60s. This is another reason that we wanted to create such a minute robot. The gear ratio combined with the size will make this robot a speed demon on the field and allows us to dart between the minerals and the depositing location quickly.
Next Steps
In the upcoming weeks we will continue to tinker with this chassis design by adding a linear side and our gathering mechanism, and hopefully, we will be able to demonstrate it at the scrimmage next week.
Date | October 19, 2018