Townview Qualifier 2018 - The Day Of
Tags: connect and motivate
Personhours: 120

By Ethan, Janavi, Evan, Abhi, Charlotte, Karina, Kenna, Arjun, Jayesh, and Bhanaviya
Task: Run the Townview Tournament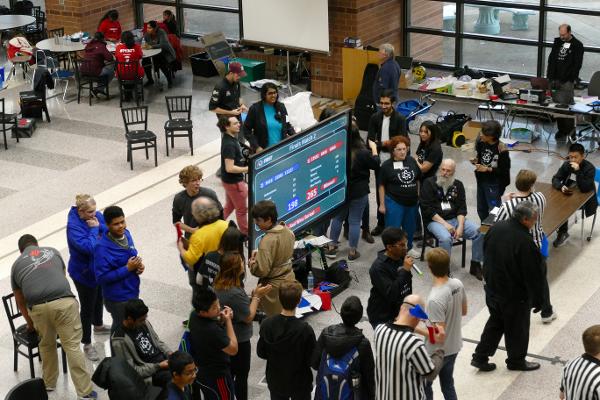 On Saturday, December 15, Iron Reign hosted 30 teams at the Townview Magnet Center, our home school's campus. This entry serves more as a description as to how we got to the point of hosting the qualifier and what to consider when hosting one.
First, for a tournament, you need a lot of volunteers of varied ages. Frankly, you need a good amount of younger kids for jobs such as queuing and judge assistance - this makes the tournament run much more smoothly. We had about 10 queuers throughout the day, and while this may seem excessive, we started out the day with a +10 minute surplus and kept every single match on schedule.
There still needs to be adult volunteers. We had 2 judges per room with five rooms, as well as 6 referees. All of these must be adults. And, we had to recruit from a diverse set of groups to cover our bases - we recruited people from the Dallas Chamber of Commerce meeting, the Dallas Personal Robotics Group, prior FTC tournaments, alumni, teachers from our school, and even our own families. It's hard to get enough judges for a large tournament, so this process had to start early.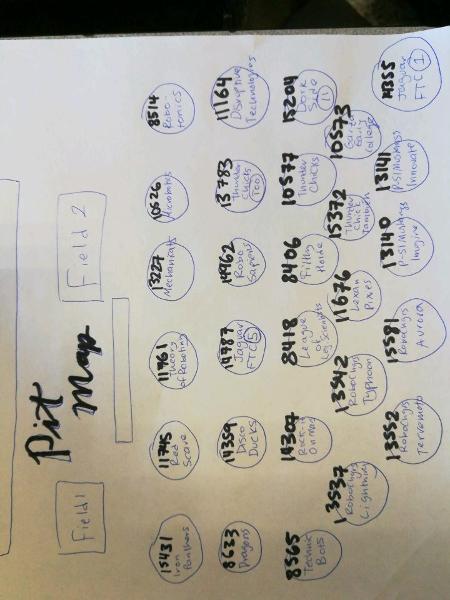 The second item that we'd like to emphasize is the need to make everything accessible by teams. Being an FTC team ourselves, we wanted to make this tournament easier for others. So, we kept a spreadsheet with inspection results on a screen in the pits so that teams could be updated, made pit maps so teams could find one another, and built a practice field a decent distance away from the others for practice. In this, we hoped to take some stress off of teams.
On the same topic of helping teams, we had volunteers assigned to help fix robots and to assist with code, as well as putting the Mobile Learning Lab in workshop mode for teams who needed it. Iron Reign has been stuck in bad situations countless times, and we wanted to return the favor to those who helped us.
Finally, we'd like to thank all of our volunteers for being there. It was a hard, long day, but it was worth it, and we'd just like to extend our gratitude. We'd like to thank DISD STEM for providing food for volunteers and Townview Magnet Center for letting us host the qualifier here. Finally, we'd like to give a huge shout-out to our coach, Karim Virani, for doing the logistics of this tournament.
Next Steps
We're going to write up a few other posts about interacting with judges, supporting teams, and a postmortem on the tournament. We've got a lot to do over the break, and this was just the kickoff for it.
Date | December 15, 2018