Meeting Log
Tags: organization and think
Personhours: 1

By Charlotte, Kenna, Karina, Evan, Justin, Abhi, Ethan, Arjun, and Janavi
Meeting Log January 12, 2019
Today's Meet Objectives
Today our goals include presentation practice, autonomous testing and fine tuning, and build changes from the newest update of the latch to replacing our REV rails with carbon fiber tubing.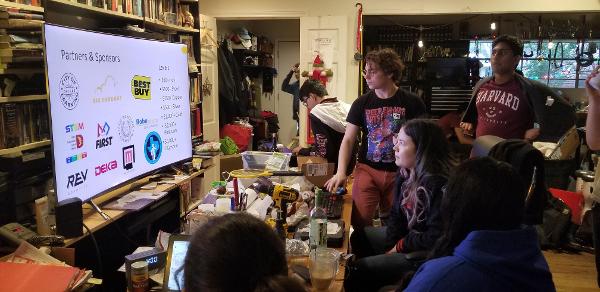 Presentation practice
Today's Meet Log
Presentation practice
With the competition a week away, we are practicing our presentation frequently. Last time we presented, we were a bit all over the place; we talked over each other and stuttered quite a bit. This practice is to minimize these mistakes and finish our presentation in an appropriate amount of time, so we can answer questions.
Latch update
We finished up the design and print for version 2 of the latch system, and Janavi assembled it. The 2nd version changes the stopping mechanism; the bearings are now in the mount rather than in the actual sprockets. More details on this version of the latch can be found at (E-93, Latch Updates).

Janavi & the latch

Lift redesign
Evan and Karina worked on reattaching/realigning the belt drive for the lift. It would go off in unintended angles, the process went smoothly except for the fact that we are going to need to tighen the zip ties by replacing them frequently. See more on the belt drive at (E-87, Belt Drive).
Carbon fiber redesign
The REV rails for our intake system are quite heavy, so we are building a new intake with its old components and carbon fiber tubing instead of REV rails. Justin designed and started a print for a perpendicular mounting bracket for the carbon fiber tubes.

Justin modelling

Mineral storage
To add to the new intake system, Evan is making a new box to store minerals out of polycarb.
Autonomous and vision
Arjun tested and fine-tuned our computer vision. This vision uses Open CV, taking inspiration from the published pipeline and Doge CV. The vision is working well, so he is integrating it into the autonomous program that Abhi created. Karina and Arjun have been working diligently to test this autonomous so that it is in working condition for the next competition.
Side shield design
Ethan began the design for side shields, which we are planning to cut out using a laser cutter that is stored in our school's engineering classroom. To see more on the design process of the side shields, see (E-87, Designing Side Shields).
Today's Member Work Log
| | | | |
| --- | --- | --- | --- |
| Charlotte | Blog | 2:00 | 4 |
| Janavi | Build | 2:00 | 4 |
| Ethan | Blog | 2:00 | 4 |
| Evan/td> | Build | 2:00 | 4 |
| Abhi | Code & Testing | 2:00 | 4 |
| Arjun | Code & Testing | 2:00 | 4 |
| Karina | Build & Testing | 2:00 | 4 |
| Justin | Modelling | 2:00 | 4 |
| Kenna | Proofreading | 2:00 | 4 |
Date | January 12, 2019