Meeting Log
Tags: organization and think
Personhours: 28

By Charlotte, Kenna, Ethan, Justin, Arjun, Abhi, and Bhanaviya
Meeting Log January 26, 2019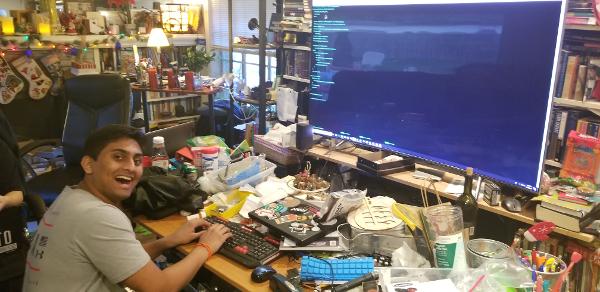 Today's Meet Objectives
We are going to use our experience from last week to guide our improvement until Regionals. Today we are going to discuss what these improvements exactly entail and outline a timeline for when we need to accomplish these improvements in order to allow adequate time to dedicate to autonomous code and drivers' practice.
Today's Meet Log
Robot repairs
There were some problems with our motors: one of the axle hubs is stripped. Though we attempted to replace the axle hubs, Iron Star and Iron Core took brought most of the tools that we need to their competition.

Karina and the robot

Code updates
We did a lot of last minute code changes during the competition. Abhi and Arjun cleaned it up and removed legacy code. Autosetup in autonomous, autonomous that works for all sides of the lander, was ditched a long time ago as it was not reliable by the time we needed to test before competition. Now that we have some time before regionals, we are bringing autosetup back. We are taking all of the code we made from scratch during the competition and integrating it into autosetup, which we hope to have ready soon to start driving practice as soon as possible.

Coders

Robot model changes
Justin worked on the robot model. We've made lots of changes on the robot in the past month, so besides the changes that we tested on our model, it needed a couple of updates; the upgraded deposit and reinforced Superman arm. The finished robot model for BigWheel can be found at (E-107, Bigwheel Model).

Blog updates
Ethan worked on the Wylie post and the postmortem, which can be found at (T-38, Wylie East Postmortem).
Today's Work Log
| | | | |
| --- | --- | --- | --- |
| All | Planning Meeting | 2:10pm | .25 |
| Charlotte | Task | 2:00 | 4 |
| Kenna | Task | 2:00 | 4 |
| Janavi | Task | 2:00 | 4 |
| Ethan | Task | 2:00 | 4 |
| Abhi | Task | 2:00 | 4 |
| Arjun | Task | 2:00 | 4 |
| Justin | Task | 2:00 | 4 |
Date | January 26, 2019