Meeting Log
Tags: organization and think
Personhours: 32

By Charlotte, Kenna, Ethan, Bhanaviya, Jose, Ben, Evan, and Janavi
Meeting Log February 02, 2019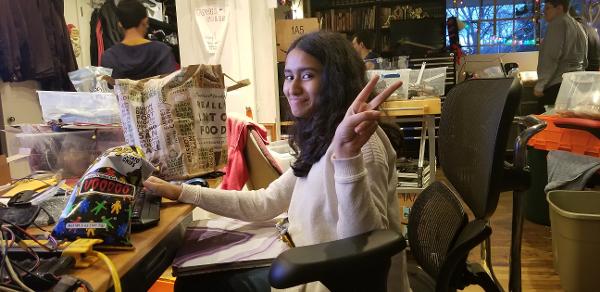 Bhanaviya working on the blog
Today's Meet Objectives
The DISD STEM Expo took place today. While incredibly rewarding, the experience was tiring, so only a few members made it back for the meeting that took place afterwards. This log will include our objectives and accomplishments from the meetings we held throughout the week after school which include build changes to the depositor, some calculations for analysis various parts of the robot, and preparation for our pit setup at regionals.
Today's Meet Log
Design posters
To display this year's accomplishments, we plan to create posters for the pit. The research poster will include a few projects we have done this year including our friction tests, materials test, and torque/gear ratios calculations as well as calculations for the elbow, wheels, and other vital parts on our robot. We will also have outreach posters and a timeline of our robot design. Janavi has been designing these posters based on the journal entries we have made about the tests.

Ethan and the research poster

Design passively-sorting deposit
Evan has been working on a mechanical depositor for minerals in the lander. We want to utilize a mechanical part to remove burden from the driver, who also has to worry about alignment with the lander as well as control of the arm. This also removes burden from our coders, who have many goals to accomplish before we will be ready for regionals. Once the initial depositor was built, we did some tests during the STEM Expo, as we had a field set up outside the MXP to show off our robots to all of the kids coming through the booth. The depositor, unfortunately, did not perform very well. The biggest problem stemmed from the elastics that enabled it to be entirely mechanical. If the elastics are too tight, it would not bend enough to let the minerals fall out of the little trap door. If the elastics are too loose, the trap door won't be sturdy enough to hold the minerals in before depositing. We are looking for other options now, and we are most likely going to opt for replacing the elastics with a driver-controlled servo. This will put more of a burden on the drivers unless the coders find the time to program sensors for depositing. Either way, we need more driving practice which we hope to accomplish in the next two weeks before regionals.
Today's Work Log
| | | | |
| --- | --- | --- | --- |
| Charlotte | Task | 4:00 | 4 |
| Kenna | Task | 4:00 | 4 |
| Ethan | Task | 4:00 | 4 |
| Bhanaviya | Task | 4:00 | 4 |
| Ben | Task | 4:00 | 4 |
| Jose | Task | 4:00 | 4 |
| Evan | Task | 4:00 | 4 |
| Janavi | Task | 4:00 | 4 |
Date | February 2, 2019