Drive Testing at STEM Expo
Tags: Outreach, motivate, Design, and think
Personhours: 10

By Ben and Abhi
Task: Test robot performance at the STEM Expo to inspire younger kids and practice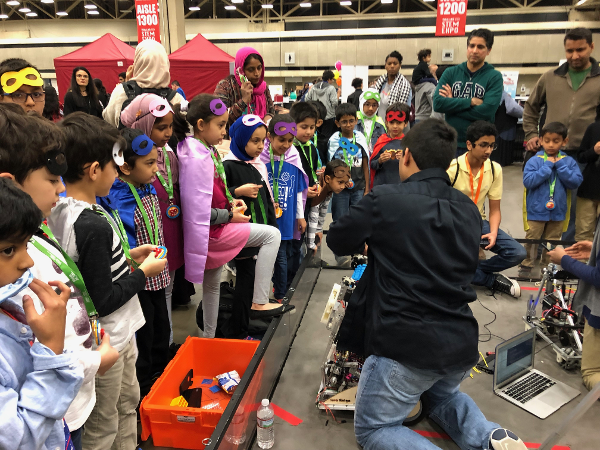 An FLL team gathered around Iron Reign's robot
We had the privilege of being a vendor and representing SEM at DISD's STEM Expo this weekend. Thousands of people cycled throughout our area during the day, so we had the opportunity to show off our robot to many people. Some of these people include FLL and VEX IQ teams, along with Best Buy volunteers. Our goal was to get kids excited about STEM and robotics, along with getting some robot practice in. We will be trying out the new latch, new presets, and prospective drivers.
As soon as we started driving, we noticed a few issues. One of these being the belt drive repeatedly slipping. This may be a result of the belt loosening, the drive gear accelerating too quickly, heavy intake arm, or the preset causes the drive gear to keep operating, even when the arm is fully extended. We also struggled with keeping the intake box out of the way and prevent it from twisting around the "corn on the cob" intake. We will solve this by fastening the rubber band that was supposed to keep it in place. This; however, wasn't our only intake problem. Once 2 minerals had been grabbed, they would usually fall out the intake box after lifting the arm. The intake box would turn vertical, making it easier for the minerals to shift out. This was especially an issue when trying to deposit the minerals, we would make several sudden movements, causing the arm to swing and minerals to fall out. A possible solution to this is adding a barrier between the floor of the intake box and the top of the box. This would allow for more freedom, as we could move faster without worry of losing minerals.
Demonstrating intake arm for FLL kids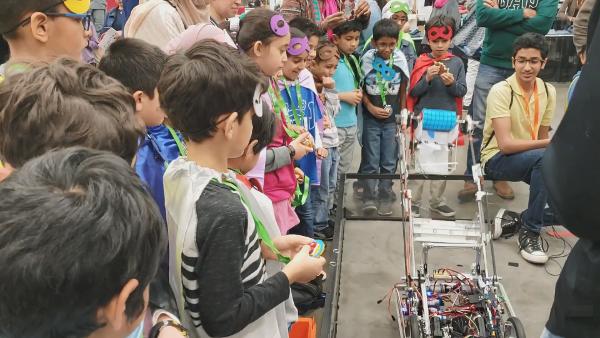 Next Steps
It will take a lot more practice to master latching and collecting, and even general driving. We will need to code better presets and either design a better collection box, or fix the existing one. Drivers will also have to be selected, which we will do by running several trials for each member and determining who is best at latching, scoring, and control.
Date | February 2, 2019