Woodrow Wilson Scrimmage
Tags: Think and Motivate
Personhours: 60

By Bhanaviya, Charlotte, Janavi, Kenna, Karina, Evan, Abhi, Jose, Ben B, and Arjun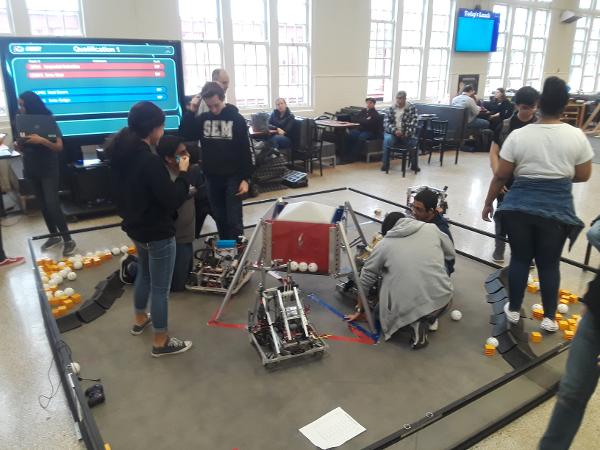 Task: Compete at the Woodrow Wilson Scrimmage with Woodrow teams
This past Saturday, Iron Reign competed in the Woodrow Wilson Scrimmage. To ensure that the wiring did not become tangled when the robot moved around, we added an ABS cable-carrier to the arm of the robot.
Overall, Iron Reign was able to establish a semi-stable deposit scoring game-plan in the match. Since we haven't focused on practicing game play in a while, this scrimmage gave us an opportunity to pin-point build and code issues, as well as get a clearer idea of what our strategy for regionals needed to look like.
Next Steps
We are incredibly thankful for Woodrow Wilson and their teams for hosting us, as well running such an effective scrimmage. The opportunity to connect with other teams in our region has given a clearer idea of what we can learn from the teams around us to improve our overall team presence.
Date | February 9, 2019