Up-to-Date Bigwheel Model
Tags: Mechanical, Innovate, Design, and Think
Personhours: 30

By Justin
Task: Finish the Bigwheel model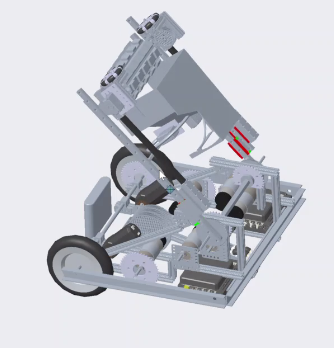 Updating the Bigwheel model to the robot's current configuration was a challenge. The new linear slides are not standard parts, so we had to model them from scratch. There was some cleaning up that was needed on the drivetrain of the model. This was mainly attaching floating motors to motor mounts and axles to bearings. These were mainly cosmetic changes, but they help define the purpose of the different parts of the drivetrain. We also updated the intake assembly to our current ice cube tray intake. The structure of the intake was easy to model but the ice cube tray gave us some trouble with its unique shape and pattern. The ratchet latching system was a failure, so a new hook model was needed. The main issue with this was that we custom forged our new hook, so there was some difficulty in getting the model to accurately represent the capabilities of the hook. Another challenge was the mineral storage system. This is made from polycarb pieces and has many unique pieces, so arranging the pieces to accurately show the flow of minerals was difficult.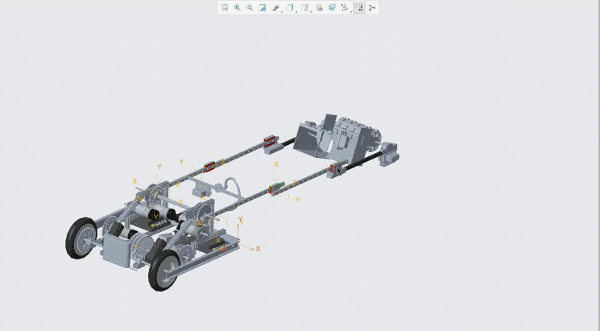 In addition to updating the model, we also learned how to show the different movements of the robot with the model. Mechanical constraints were added to allow certain parts to slide or rotate. The one problem we had with this was that there were no limitations to how far something could slide or rotate, so many parts of the model would disconnect and be left floating. After some research, a solution was found. Zero points were created for each moving part and minimum and maximum movement limits were added. Some parts that now can move on the robot are the wheels, superman arm, hook, and linear slides. This allows us to not only show the movement of the robot, but also the limitations of its parts, which can help us visualize new solutions to our remaining problems.
Next Steps
Our next step is to wait for more build changes, so we can keep updating the model. Another addition we might make is making stress maps of the robot in different configurations to see where parts might fail. This has been an ongoing challenge of keeping the model accurate when the robot gets updated or rebuilt, and now we finally have a finished model and ready robot for regionals.
Date | February 21, 2019