Wylie Regionals 2019
Tags: think and motivate
Personhours: 132

By Ethan, Charlotte, Evan, Kenna, Karina, Abhi, Arjun, Bhanaviya, Ben, Justin, Jose, and Janavi
Task: Compete at the North Texas Regional Tournament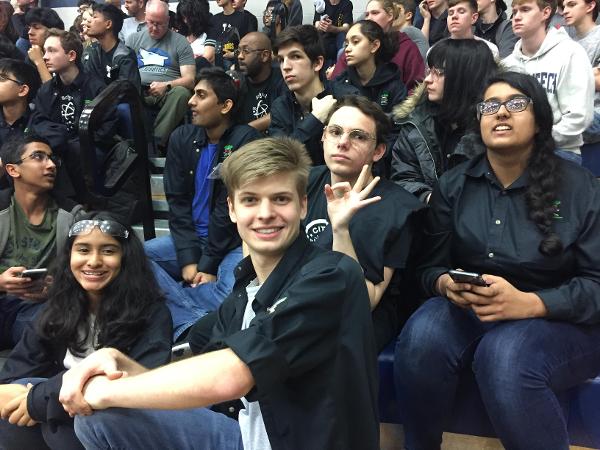 Preparation
Unlike other tournaments, we started packing before morning. We packed as if we were going out of state, bringing a bandsaw, all-new charging box, every replacement part imaginable, and a printer which would ultimately come in handy later. We relied on a packing list created by Janavi, detailed below.
Because of this, we got to Wylie on time, turned in our notebooks, had the team rosters printed out, and were able to start right away.
Inspection
Breaking our all-season streak, we failed our first inspection, cited for our unruly cable management. So, we made a hasty retreat back to the pits and zip-tied the cables together and rethreaded our intake servo wires through the cable guards, then brought it back to inspection. We passed, but we were warned about possible size issues with the team marker. But, looking at RG02, we realized that it wasn't a major concern.
Judging
The main issue this time was not speed or knowledge but simple enthusiasm - it just felt off and a little uncharismatic. However, we received three separate pit visits for what we believer were Motivate, Connect, and Innovate. In particular, we were able to get the Motivate judges out to see the MXP and talk about expanding the program while keeping it sustainable. The Innovate judges focused on the Superman mechanism, as it's fairly unique, and we fielded questions about the design process. In Connect, we also talked about the MXP and its $150k grant largely because of our efforts.
Robot Game
Match 1(Q3)
For the first time in the Rover Ruckus season, we won a game. Both us and Corem Deo had almost perfect auto and Corem Deo got plenty of mineral cycles into the lander. Unfortunately, BigWheel tipped over during end game so we couldn't latch. However it did not affect the match results significantly.
Match 2(Q9)
Unfortunately, we lost. Both our autos failed in some way and BigWheel ended autonomous with one wheel in the crater, wasting us 30 seconds during teleop just to get out. Also, most of our mineral cycles failed and we couldn't latch during end game and had to partially park in the crater.
Match 3(Q15)
To our surprise, we won. We were against Elmer and Elsie, who were seeded 1st before this match. We had a perfect auto this match while the other side had some issues with their's. During teleop we had some pretty successful mineral cycles and both robots hung onto the lander with the other side only having one hang and one robot partially parked.
Match 4(Q26)
We didn't expect to pull a third win but we did. Our auto also failed a little again but it didn't cost us any time during teleop like last time. We also had some very successful mineral cycles this time, but when attempting to hang BigWheel tipped when going into its preset position for hanging, even so, it didn't affect match results.
Match 5(Q33)
Once again we didn't expect a fourth win, but it happened. Before this match we wanted to test our autonomous with the Lamar Vikings to check if the robots would collide during autonomous, but due to mechanical issues on their side this was delayed and we had to queue without doing so. Indeed, our robots collided in the depot causing us to miss out on 75 points. During teleop one robot on the other side disconnected but on our side two of our servos disconnected, the mineral gate and the hook, so we couldn't score minerals or latch so we played some minor defense and partially parked in the crater.
Match 6(Q36)
Our luck ran out in this match as we lost. This was a very tight match against TechicBots, the first seed. Both sides ended autonomous 150-150. The mineral game was also tight, the lead switched between both sides many times as minerals were scored but the other side took the lead once BigWheel tipped over. We couldn't hang once again and both our opponents kept scoring, leading to our loss.
For the first time this season, we were selected for Semis as the first pick of the third alliance.
Match 1
We lost. Our autonomous failed as well as teleop while the other side continuously scored minerals into the lander. And yet again we couldn't hang due to tipping.
Match 2
We lost again. We began a timeout due to technical issues with the phones and ultimately had to give up and leave BigWheel to sit idle on the field for two minutes and thirty seconds while the Lamar Vikings attempted to win without us.
Awards Ceremony
By the time the ceremony started, most of us had been up for 13+ hours, so we were all a little under the weather. We first received the Motivate award! It's always nice to have your efforts recognized and this was no exception. The Motivate award means a lot to us - it's what we got last year at Worlds. Then, we heard, "3rd place Inspire Award goes to...team 6832 Iron Reign!" And the SEM section went wild. We advanced!
Next Steps
The post-mortem will be in a later post. See y'all at Worlds!
Date | February 23, 2019