Meeting Log
Tags: organization
Personhours: 40

By Charlotte, Ethan, Evan, Justin, Karina, Janavi, Jose, Ben, Abhi, and Bhanaviya
Meeting Log March 02, 2019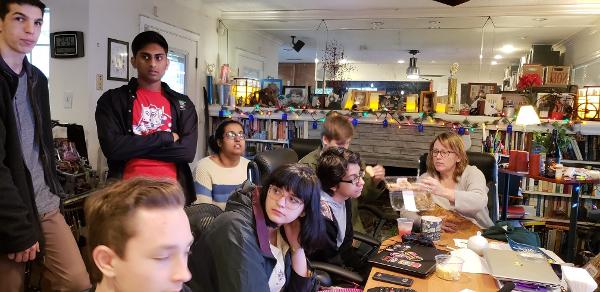 Today's Meet Objectives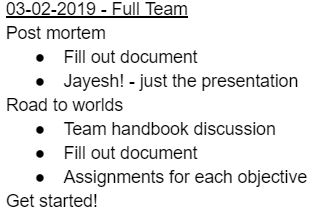 Since we qualified for worlds, we are using today as an opportunity to start our Road to Worlds, as the discussions we have today will shape our progress for the next 8 weeks. We plan to start today with a post-mortem discussion regarding our previous competition, and then we will proceed to evaluate our strengths and shortcomings throughout the post-mortem. These lessons will shape our Road to Worlds document, a guide that outlines our major objectives within every subteam of Iron Reign.
Today's Work Log
15 minute cleaning/organization session
Planning session
Post-mortem
A post-mortem follows every major competition we attend, so that we can put into words and learn from our successes and failures in a constructive environment. We spent most of our meeting today reflecting on last week's regional competition with topics including robot performance, pit conduct, and preparation, and our detailed post-mortem can be found at (E-118, North Texas Regional Postmortem).

Skype call with Jayesh

Presentation post-mortem
We discussed (on a Skype call) our presentation with one of our alumni, Jayesh, who gave us guidance and feedback based on a video we took of our presentation at regionals so that we can improve our presentation in the coming weeks.
Road to Worlds
Following our post-mortem discussion, we booted up our road to worlds doc and began our discussion as to how we will accomplish everything we need to in 8 weeks. Our Road to Worlds document will help increase focus and productivity so we don't lag behind in our progess. See our Road to Worlds at (E-119, Road to Worlds 2019).
Further planning
If we are going to accomplish what we set out to, it is going to require immense commitment and higher-level planning. We need to decide how we are going to spend spring break, and with a Doodle poll that indicates participation for the next two weeks, we can plan accordingly. We may not have many builders, so hopefully we can do drive practice.
| | | | |
| --- | --- | --- | --- |
| All | Organization and Planning | 2:00pm | .33 |
| All | Post-mortem & Road to Worlds | 2:20pm | 3.66 |
Date | March 2, 2019