Meeting Log
Tags: organization
Personhours: 36

By Charlotte, Janavi, Aaron, Ethan, Justin, Bhanaviya, Beno, Abhi, and Karina
Meeting Log March 16, 2019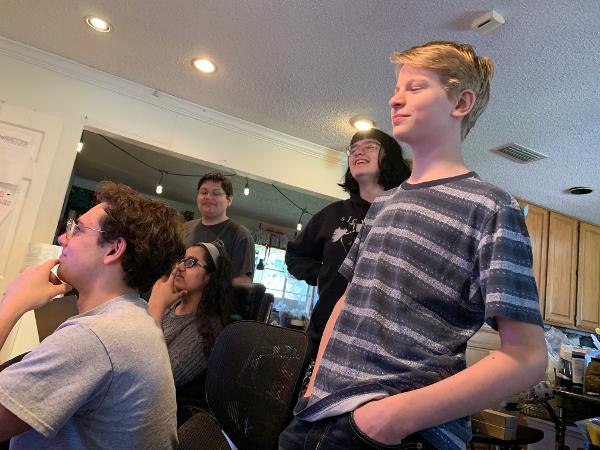 Today's Meet Objectives
Agenda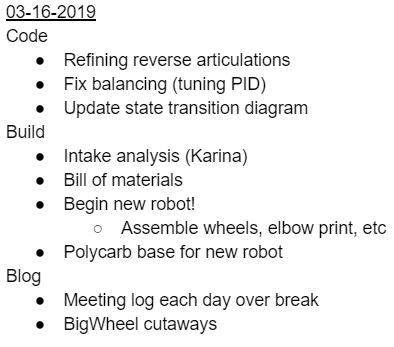 Objective Summary
Our main objectives for today are to gather and assemble the parts and subsystems needed to construct our new robot as well as continue the improvement of our robot's balance programmatically.
Today's Work Log
Beginning of new robot build
Aaron and Justin began working on our new competition robot. Justin designed and cut a polycarb base and Aaron assembled the elbow piece and both wheels. The polycarb base will be the structure of the robot, connecting all of the subsystems together.
PID Tuning and Reverse Articulations
Abhi and Ben O have been tuning PID gains for autonomous and the presentation of our robot. Today, we focused on balancing our robot while the intake is fully expanded and the chassis is vertical without superman. This task is extremely complex considering the tiny balancing point and the height of the center of mass when the robot is extended in such a way. Also, since adjustments to our elbow, we are in the process of creating new reverse articulations. These allow the elbow to bend in the opposite direction as before to remove burden on our drivers.

Abhi balancing robot before PID adjustments

Bill of Materials
Bhanaviya and Karina continued to work on a bill of materials, which can be found at (E-131, Bill of Materials). This is a continuation of progress made during spring break, and such a record will make it easier to build our second robot, as builders will have easy access to each part we need and where to aquire such an item.
BigWheel cutaways
Ethan made some cutaways using PTC Creo and Autodesk and our robot model, which required him to convert the file to .dxf in a certain articulation and then into an Illustrator file. This will allow us to better illustrate and document the design of the robot.

Cutaway of BigWheel in Illustrator

Intake analysis
Karina took some videos of our intake system to analyze its efficiency. Notably, we want to measure the time it takes a mineral to travel through our corn-on-the-cob intake and thus determine the lag that occurs in this process. This will guide our redesign of our intake mechanism. In the next week we will perform this analysis, which can be found at (E-132, Intake Speed).
Today's Member Work Log
| | | | |
| --- | --- | --- | --- |
| All | Planning Meeting | 2:10pm | .25 |
| Abhi | PID tuning and articulations | 2:00 | 4 |
| Ben O | PID tuning and articulations | 2:00 | 4 |
| Ethan | Cutaways of BigWheel model | 2:00 | 4 |
| Aaron | Subsystem assemblies for new robot | 2:00 | 4 |
| Charlotte | Planning and blog | 2:00 | 4 |
| Bhanaviya | Bill of materials | 2:00 | 4 |
| Karina | Bill of Materials and intake analysis | 2:00 | 4 |
| Janavi | Blog | 2:00 | 4 |
| Justin | Polycarb base measurements and cut | 2:00 | 4 |
Date | March 16, 2019