Meeting Log
Tags: organization
Personhours: 56

By Charlotte, Ethan, Bhanaviya, Karina, Jose, Justin, BenB, BenO, Arjun, Cooper, Paul, Abhi, Janavi, and Aaron
Meeting Log March 23, 2019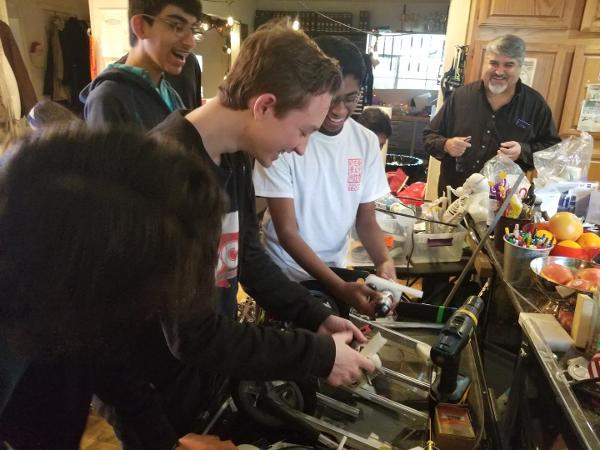 Today's Meet Objectives
Agenda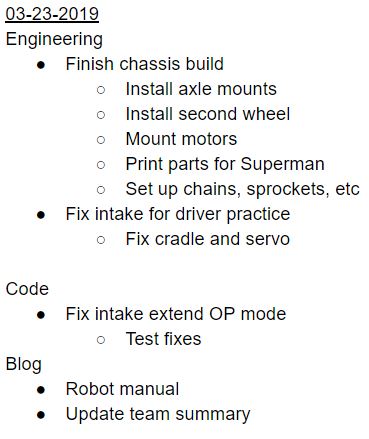 Objective Summary
Today, our main goal is to finish the chassis of our new robot, as well as identifying and fixing the error in our code that stops the OP mode that lets the intake extend into the crater.
Today's Work Log
New robot chassis build
Justin, Ben B, and Jose installed the axle mounts (which have finished printing and being welded) and the second wheel). We installed the drive motors, fully assembled, and put together the drive change. Our chassis is complete except for the Superman arm, as those parts we started printing today. The print broke because the printer was on the wrong setting, rather than setting a base, the print pulled up. The new print should be finished in time to do the assembly of superman during the week.

Chassis before installation of drive motors

Ben B cutting the main drive shaft

Sorter assembly for old BigWheel
In order to do drive practice with our old robot, Aaron and Cooper did some fixes to the intake for it to be functional again. While this is not the sorter we will use on our new BigWheel, so we can get some much-needed drive practice next week.

Cooper with the sorter pre-assembly

Identify and fix code error
The code team has been trying to identify a code error since yesterday so that they can continue fine-tuning autonomous and the robot won't malfunction while deploying in the crater. We also need this part of the code to work for drive practice that we hope to get next week. After some thorough searching, they found the error to stem from a missing break function that was supposed to occur between the case for deploying and for reverse driving.

Arjun looking for the error

Robot manual and team summary
Ethan worked on the robot manual, which is a brief but incredibly detailed guide of the subsystems on our robot. This will be put in our journal for the judges to read. We also updated the team summary to make it more concise so it is more easily digestible for the judges. Finally, we made a fold out for our journal to show the judges our outreach in a succinct manner.
Today's Member Work Log
| | | | |
| --- | --- | --- | --- |
| All | Planning Meeting | 2:10pm | .25 |
| Name | Task | 2:00 | 4 |
Date | March 23, 2019