REV Beta Test
Tags: connect
Personhours: 84

By Bhanaviya, Ethan, Karina, Justin, Arjun, Jose, Benb, Janavi, Evan, Aaron, Abhi, and Beno
Task: Test the new REV Control Hub at the REV Scrimmage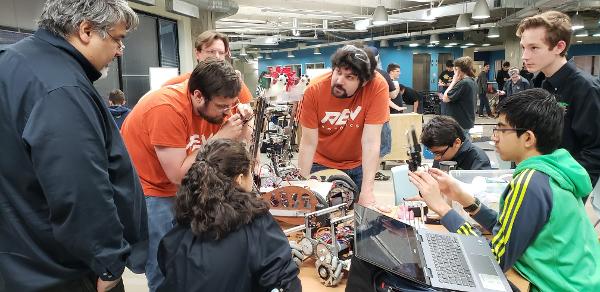 Founders of REV working with our team
REV recently updated the control hubs they've been providing to FIRST Global for the last two years. They are hoping to get them listed as an option for FTC teams next year and so they wanted to test them with a variety of teams. This latest version has a USB-C connector and some internal component improvements. These control hubs take the place of the REV Expansion Hub + Android Phone combo because they effectively have a quad core android device inside. This should make USB disconnects a thing of the past, though teams using machine vision will need to use an external webcam and that will still require good cable management. All the North Texas teams invited to the beta test were also invited to a scrimmage to drive their Rover Ruckus robots with the control hubs instead of phones.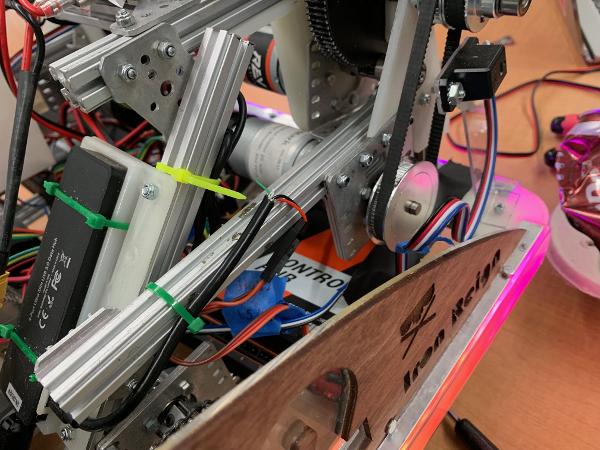 We had some initial setbacks due to pre-manufacturing issues with the beta unit we were sent. The control board was set to the wrong address and couldn't be used. Once we got it replaced, the primary robot functions worked well. The only exception was vision. Because we lost so much time we didn't quite finish our OpenCV integration so we couldn't test our mineral sampling vision pipeline. Unfortunately we had to turn in the beta unit at the end of the event so we couldn't profile its vision performance. We plan to do so when we get the newest control hubs in May or June. Despite the setbacks, we found that overall, the control hub made robot control more efficient. The driver control was pretty similar to that of the phones and expansion hubs, but it saved us time in trying to ensure that both the phones and expansion hubs worked. We enjoyed the experience of using control hubs, and we hope to use them next season if they are allowed.
We are incredible grateful to REV for giving us the opportunity to test of the new control hubs as well as interact with other NTX teams before Worlds. This chance to test the control hub was not only a good opportunity to test the potential of our robot with new technology, but it also gave us the much-needed chance to drive-test in a match with other teams before Worlds.
Date | April 13, 2019