Meeting Log
Tags: organization
Personhours: 4

By Bhanaviya, Jose, Paul, Aaron, Ben, Evan, Trey, and Justin
Meeting Log June 08, 2019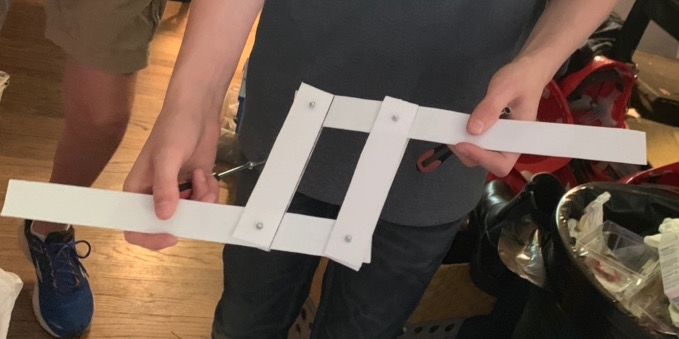 Today's Meet Objectives
Over the course of today's meet,we will start prototyping potential gripper and drive systems to implement in a summer chassis project.
Brief summarization of today's objectives
Today's Work Log
Prototyping leg-drive
Aaron, Trey, Justin and Evan experimented with the leg drive system by prototyping leg propulsion with polycarb "legs". The polycarb pieces were drilled to form a rectangular shape which would extend and contract to propel the drive forwards. After creating the polycarb structures, they implemented rev rails and gears to "rev up" the leg drive system. It's still a prototype for now but it could be implemented into a chassis soon to test if the leg drive system can actually be made into a functioning model.


Experimenting with grippers
Jose and Ben tried out two different kinds of gripper systems. Jose prototyped a parallel gripper bar system. He used polycarb pieces to create the prototype. Two smaller vertical pieces of polycarb were attached onto a horizontal, larger strip to create the parallel gripper system. Ben implemented a loop gripper system onto a small base chassis with 2 omnis and 2 REV wheels. The loop gripper operates when the REV motor spins the gear sprocket attached to a carbon-fibre rod which causes the ziptied-loop to expand and contract accordingly.


3D-Modelling and CAD Design
Paul modeled a bracket for leg drive. This past season, we have used this kind of bracket repeatedly - as such we decided to model it in the case that we choose to incorporate it in our design for the upcoming season.
Today's Work Log
| | | | |
| --- | --- | --- | --- |
| All | Planning Meeting | 2:10pm | .25 |
| Jose | Parallel Gripper design | 2:00 | 4 |
| Paul | 3D model a bracket | 2:00 | 4 |
| Ben | Loop Gripper design | 2:00 | 4 |
| Aaron | Leg-Drive prototype | 2:00 | 4 |
| Evan | Leg-Drive prototype | 2:00 | 4 |
| Trey | Leg-Drive prototype | 2:00 | 4 |
| Justin | Leg-Drive prototype | 2:00 | 4 |
| Bhanaviya | Meet Log | 2:00 | 4 |
Date | June 8, 2019