Meeting Log
Tags: innovate and design
Personhours: 4

By Bhanaviya, Jose, Anisha, Paul, Shawn, Trey, Justin, Aaron, Ben, Mahesh, and Cooper
Talking Heads: Summary June 08, 2019
Task: Prepare for the 2020-2021 Game Reveal season
Today kicked off our first meeting for the new Ultimate Goal season. Since the actual challenge for this year hasn't been released, the most we can do is to speculate what the new challenge might pose, and what we can do to prepare for it.
Recruitment
As most of our members have moved on to our Junior year, our team is now primarily upperclassmen-led. This means that within 2 years, we will need to recruit enough members to keep the team sustainable after our graduation. Unfortunately, due to the current pandemic, we will need to ensure that the Iron Reign program has the funding needed to maintain 3 teams in addition to ours. At the moment, our focus has been on keeping our own team viable over the virtual season, and this may mean that we will have to cut back on our recruitment and pick it back up closer to our senior year on the team.
Outreach
In an earlier post, we went over the plans for a new mobile learning lab. To clarify, the Mobile Tech xPansion program is owned by Big Thought, a non profit organization dedicated to education, but its outreach events are executed by Team 6832 Iron Reign. During these events, our team travels to low-income areas around the Dallas community with little access to STEM education, and teaches younger students about robotics and CAD to improve their interests in STEM which can sometimes be hard to discover without the access to a strong STEM-based education. Recently, Big Thought approved the plans for funding and expanding this program and our coach was able to purchase a new vehicle for the second, improved version of this Mobile Learning Lab. However, due to the ongoing pandemic, the plans for this vehicle have been put on temporary hold since most of our outreach events happen over the summer. As the count for COVID-19 cases in Dallas has been relatively high, there is no safe way for our team to interact with younger students and teach them hands-on robotics. As such, we will be placing our MXP outreach program on hold until the pandemic has improved (which will be, hopefully, soon).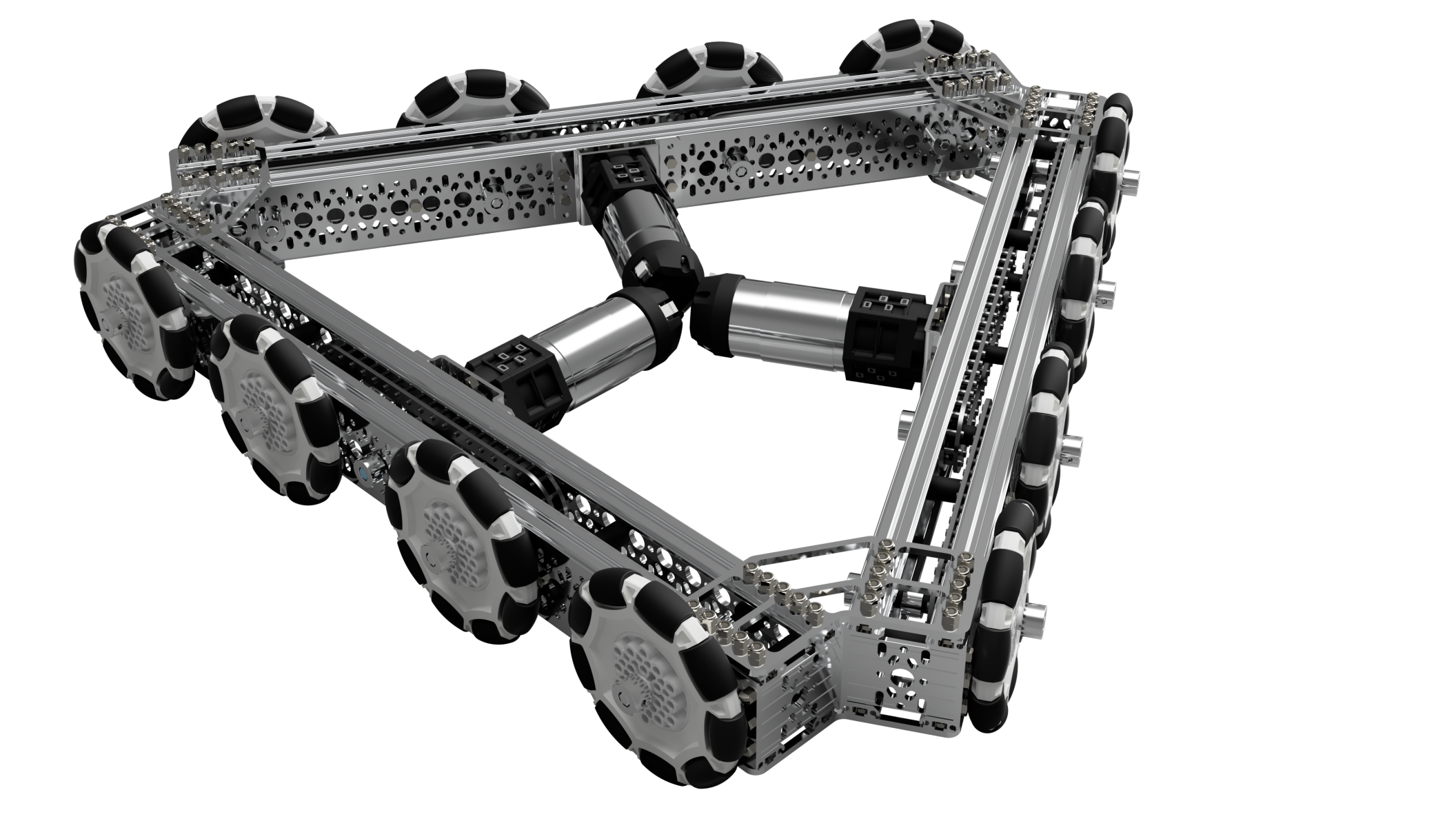 3D-Modelling and CAD Design
Jose has been working on modelling various robot designs in anticipation of the upcoming season. The first is a kiwi drive, with a triangular chassis with 4 omni-directional wheels on each side of the chassis which enables movement in any direction using only three motors. The render of the robot itself is built using custom and goBilda motors. Another design was for an Inspirenc CAD Challenge, which resembled our Superman design from two seasons ago, but with a more rectangular chassis. All of these designs created over the summer will be within their own separate entry - this is merely a summary of our summer progress. Since we don't yet know what the challenge this year will look like, nor how much we would be able to meet in-person in light of COVID19, we plan on starting our build efforts with CAD designs to streamline the engineering process with an online reference in hand.
Next Steps
One of the hardest things about this year's season will be trying to cover all our usual grounds virtually since the number of team members who can show up to in-person practices has been severly limited. In the meanwhile, we plan on using our Discord group to map out the skeleton of our new season - journal and CAD will, for the most part, progress business as usual but we'll need to rely on CAD and our planning calls much more heavily to go through with build, code, and outreach. We plan to keep up our pace as a World-class team as best as we can over quarantine, as uncertain as our plans for this season may seem.
Date | June 8, 2019