Mayor's Back to School Fair
Tags: motivate, connect, and mxp
Personhours: 21

By Bhanaviya, Jose, and Ethan
Task: Educate students at the Mayor's Back to School Fair on robotics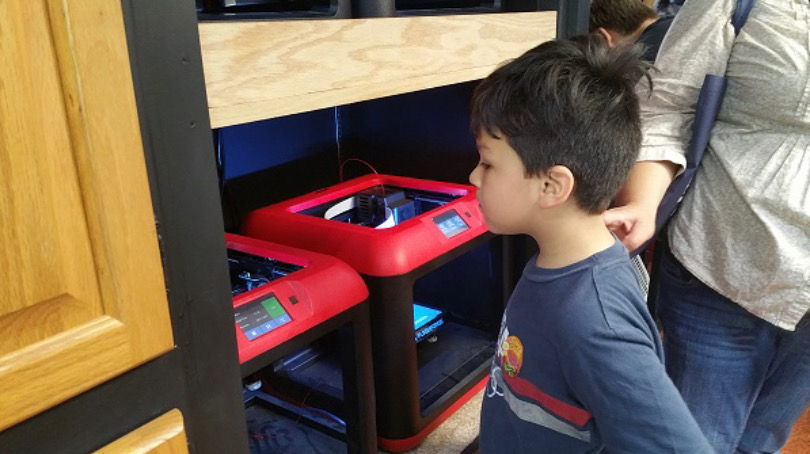 Students learning to model keychains
Iron Reign was given the opportunity to present the MXP and its activities at the Mayor's Back to School Fair. During this event we met with around 260 participants from ages 4 to 12 and were able to teach them about block-programming LEGO EV3 robots and on 3D-modelling keychains. The purpose of this event was to spread STEM programs to students in areas of Dallas were a STEM education was not as prominent.
This is our fifth year at this event, and it has been our busiest one this season. Alongside our traditional MXP events, we were able to launch cans using the CANnon (pun-intended) to cartbot. Considering the crowd we had at the event, and that the MXP could only hold 10 participants per session, a can-launching cannon allowed us to ensure that participants were able to stay engaged while they waited to board the vehicle.
During the event, we also met with a representative from the Dallas Innovative Alliance (DIA), a non-profit dedicated to supporting the execution of building Dallas into a city that leaves a legacy of innovation and sustainability for future generations. The representative we spoke with mentioned that the DIA was looking to collaborate with programs dedicated to bringing forth STEM in their communities like the MXP program. As such, we look forward to any future possibilities for working with the DIA.
Throughout the event, we met several students asked us how they could join a robotics team of their own. Being able to educate such a large group of participants on FIRST and robotics was a gratifying experience for our team and as such, we'd like to thank the City of Dallas for giving us this opportunity. Our fifth year being a part of the Mayor's Back to School Fair could not have gone smoother, and we look forward to returning again the next summer.
Date | August 2, 2019