Responding to Girl Scouts of Desert Southwest
Tags: connect and motivate
Personhours: 3

By Bhanaviya
Task: Respond to an email about the MXP to the local Idaho STEM director of Girl Scouts.
The Mobile Tech xPerience
Today, Iron Reign received an email from the STEM director of the Girl Scouts of Desert Southwest saying that they are seeking to create their own mobile learning lab, similar to our Mobile Tech xPerience (MXP). As such, in the email we were asked for the story of the MXP - its deconstruction, construction, design and the like. Considering the MXP is nearing its time for expansion, it was fitting that we received this email. Since the correspondence comes from Idaho, this will also be our first out-of-state connect opportunity of the season.
In a brief summary, in our response we detailed the interior construction of the vehicle. Buried in this blog's archives is a series of posts that details the whole deconstruction and reconstruction process of the vehicle. Of course, no one from our current team was involved in this process and as such, we made sure to accredit the interior furnishing of the vehicle to our team alumni. This process included replacing the carpeting with wood-grain vinyl, adding new shelving to store LEGO robots, installing new wide-screen monitors, and creating a bay to stock 3D printers.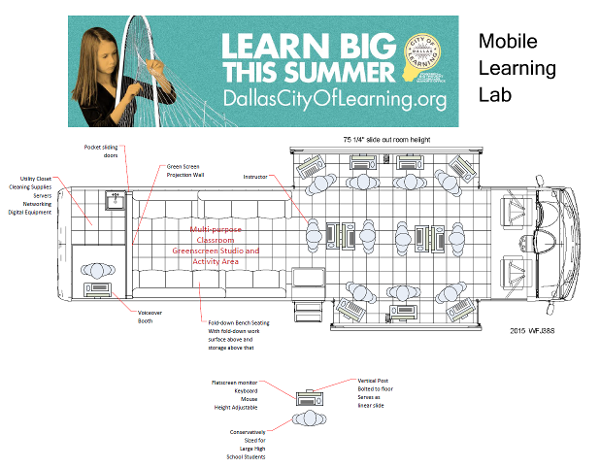 The floorplan for a second vehicle
We also made sure to explain how the MXP is operated. For reference, the vehicle is operated by Big Thought, our programmatic partner, and during the vehicle's deployment at outreach events like Moonday, our team mans and runs the MXP booth where we teach students how to block-program LEGO EV3 robots to battle one another, and how to 3D-print a keychain on SketchUp that they can take home. Now, the MXP is nearing end of its lifetime and Big Thought has plans to expand the program by creating a new, bigger vehicle.
Next Steps
We were very gratified by the STEM director of the Girl Scouts of Desert Southwest reaching out to us about the plans for their mobile learning lab. Being able to take part of the MXP's mission to bring STEM education to students in the greater Dallas area has been one of the best opportunities Iron Reign has recieved, and its one we intend to pass on to others in our community like the Girl Scouts. We wish them the best of luck in putting their plans to fruition and are looking forward to answering any more questions they have on the plans for the vehicle.
Date | November 13, 2019