Townview Qualifier 2019 - The Day Of
Tags: connect and motivate
Personhours: 144

By Bhanaviya, Jose, Paul, Aaron, Justin, Trey, Ben, Karina, Cooper, Jayesh, Tycho, and Max
Task: Run the Townview Tournament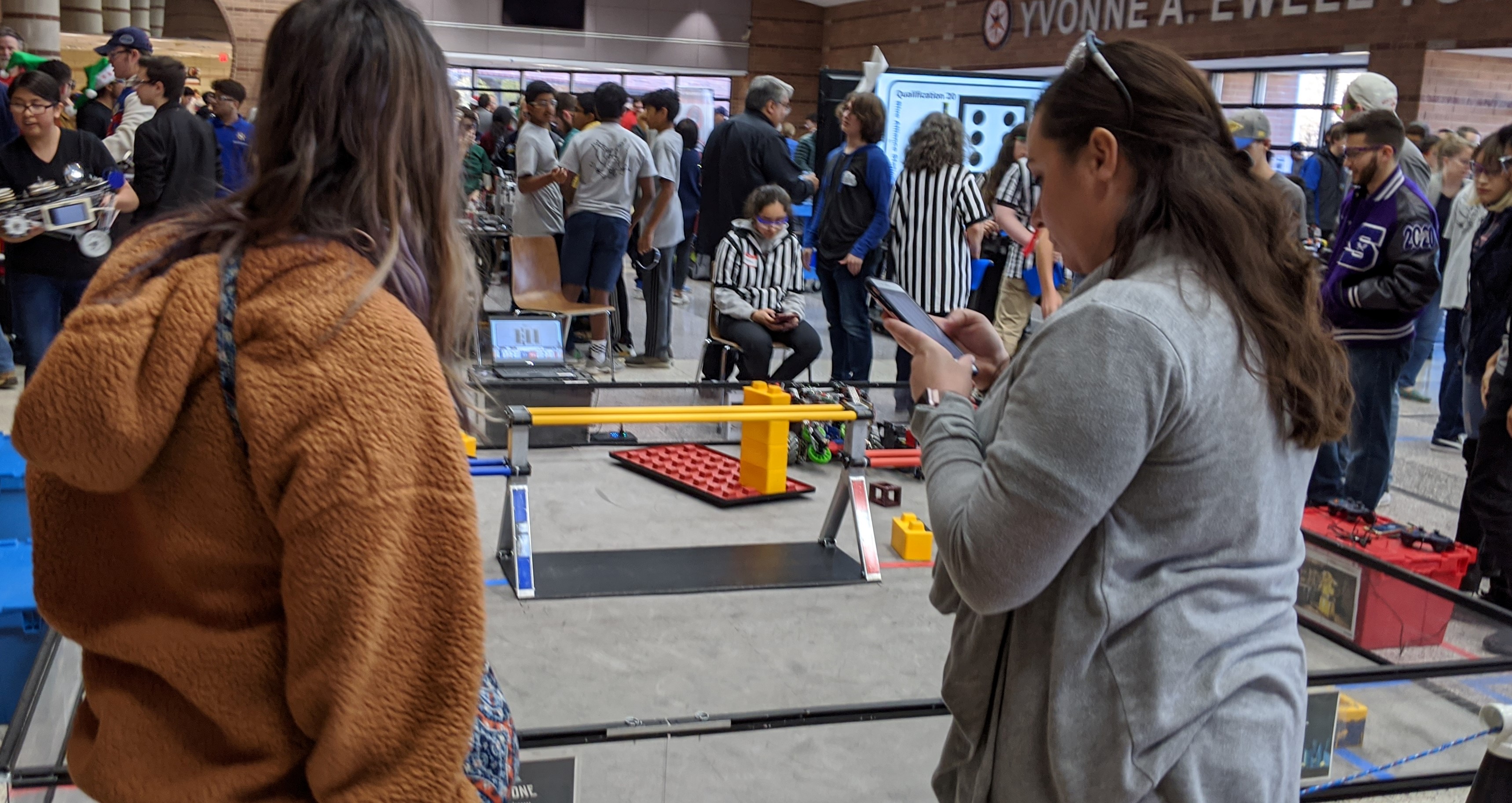 On Saturday, December 15, Iron Reign hosted 31 teams and 300 students at the Townview Magnet Center, our home school's campus. With 31 teams, this was one of the biggest qualifiers in the North Texas region. A video play-by-play of the matches can be found in a separate entry here. This entry serves more as a description as to how we got to the point of hosting the qualifier and what to consider when hosting one.
To start off, a full-fledged qualifier requires a large number of volunteers - both student and adult. While there are certain roles that are limited to adults only, many roles need a good number of younger volunteers - especially queuing and judging assistance. If the host team is not participating in the qualifier, then a good way to meet this cap is to recruit from a school's robotics program. In our case, student members from the Iron Reign Robotics program filled in positions such as game announcer, emcee, disc jockey, concessions, and around 10 queuers and runners. Prior to the start of match-play all our members helped with judging assistance. This includes ensuring that all teams are queued up on time outside their judging panels and ensuring that all teams have gone through field and robot inspection. This helps ensure that all teams are on schedule for the start of match-play. Below, you can see what specific roles which Iron Reign members helped fill during the tournament:
Townview Qualifier Member Work Log
| | | | |
| --- | --- | --- | --- |
| Karina | Referee | 7:00 | 12 hrs |
| Justin | Queuer and Runner | 7:00 | 12 hrs |
| Bhanaviya | Emcee and Queuer | 7:00 | 12 hrs |
| Ben | Queuer and Queuer | 7:00 | 12 hrs |
| Jose | Game Announcer | 7:00 | 12 hrs |
| Cooper | Queuer and Judge Advisor Assistant | 7:00 | 12 hrs |
| Aaron | Queuer and Runner | 7:00 | 12 hrs |
| Paul | Disc Jockey | 7:00 | 12 hrs |
| Trey | Queuer and Runner | 7:00 | 12 hrs |
A good qualifier also needs adult volunteers. We had 2 judges in 4 judging rooms and one room with 3 judges. In addition, we also had 6 referees and one scorer. All of these are adult roles which meant we had to seek volunteers from a variety of sources including prior FTC Tournaments, alumni from our team, and even our own families. All adult volunteers must go through background checks as well as complete other training certifications on the FIRST website so this proccess must start at least 3 weeks in advance to recruit enough volunteers. To do this, we posted a request for volunteers on this blog for any visitors to our website to sign up.
Fresh off of the Allen Qualifier, we knew the pressure that teams felt at a qualifier - whether its caused by a lack of driver practice, tools or just undulated anxiety, we wanted to alleviate this stress. So, we ensured that a practice field set up away from the pit area for teams to practice right before their matches. We also kept a spreadsheet with inspection results on 2 monitors in the pits so that teams could be updated, and made pit maps so teams could find one another. These maps are also helpful to runners who need to find teams to queue them for their matches or for their judging panels. With so many members of our team floating around the pits, we were also able to provide any build or code assistance to teams who might need it. Finally, one trait all FTC team members share on the day of qualifier is the perpetual need for sustenance so we collaborated with one of our school's, TAG, PTSA to set up a concessions stand while the DISD STEM Department ensured that all volunteers received lunch.
Next Steps
By the end of the qualifier, we were able to advance 4 teams to the North Texas Regional Championship, and another 4 to the Wildcard Qualifier on February 1st. The qualifier could not have gone as smoothly as it did without the help of all our volunteers for committing so much of their times on a weekend to promote FIRST and STEM. We'd also like the DISD STEM Department for proving all our volunteers with breakfast and lunch, to The School of Business and Management and our sponsor, Mr John Gray, for supporting the event. Finally, we'd like to thank our coach Mr Virani for managing all of the logistics for the event, including its set up and the qualifier itself.
Date | December 14, 2019