UME Qualifier
Tags: think
Personhours: 99

By Bhanaviya, Karina, Cooper, Jose, Trey, Aaron, Ben, Justin, and Paul
Task: Compete at the UME Preparatory Academy Qualifier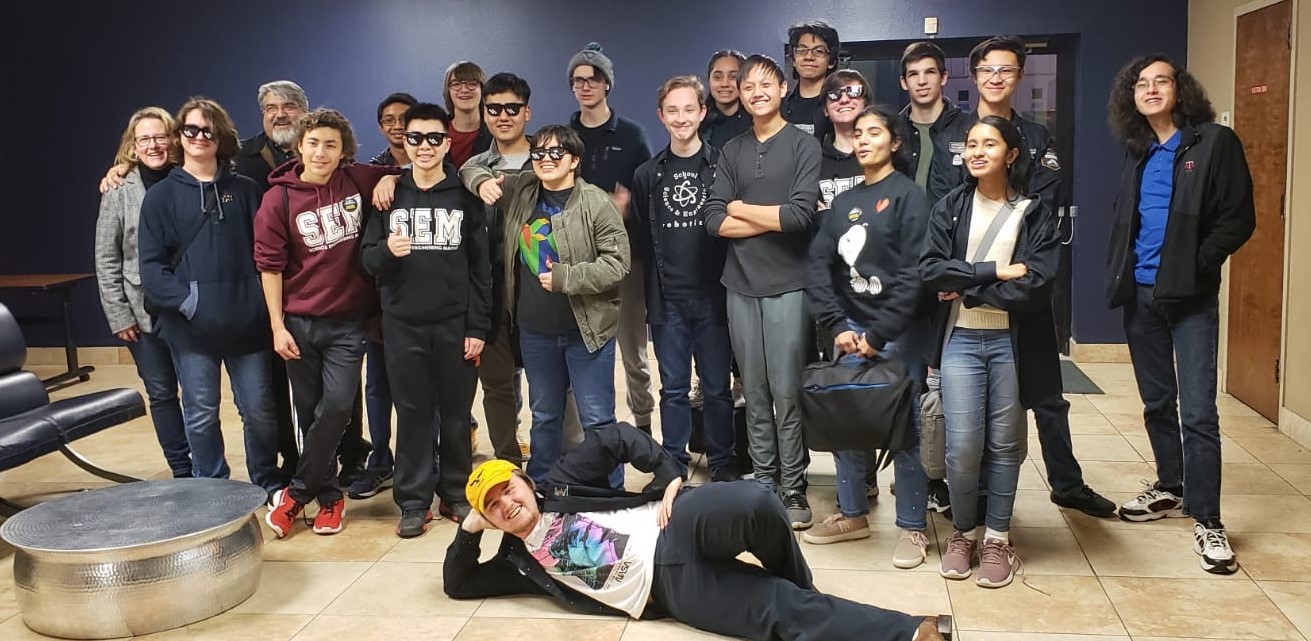 A solid month or so after our first qualifier, Iron Reign walked through the doors to our second qualifier at the UME Preparatory Academy with our three sister teams. Compared to last season, we had gotten significantly more driver and presentation practice, but we still weren't as organized as we could have been and in a robotics qualifier, this is a bit of concern. Nevertheless, we were optimistic (though wildly unprepared) for the day ahead.
Inspection
Just like at our first qualifier at Allen, we passed inspection the first time around! While this was a minor victory, it served us well later on in the day.
Presentation
Having practiced more the second time round, our presentation ran relatively smoothly. We did lack enthusiasm, however, and as one of the earlier teams to go through judging, this was not ideal. Unlike last time, though, our robot demo worked significantly better. Still, our questioning period could have worked off better and the transition from each question is something we will be focusing on improving before regionals.
Robot Game
First off, the turret on our robot had to be entirely dismantled the week of qualifier, and there had been a storm the previous night, and since robots and rain don't generally make a good combination, we didn't have too much driver practice. We had practiced in the couple weeks leading up to the qualifier though, so needless to say, we were in much better shape than previously. For reference, this post will not discuss our robot performance at UME and merely serves as a summary of our day in each sub-category. There will be another post detailing our match-play soon.
Match-Play
With a win-loss record of 3-2, our qualification rounds weren't the best. But somehow, we managed to scrape through to be ranked 8th! Our sister teams Iron Golem, Imperial Robotics and Iron Core had placed 6, 10 and 12 respectively, an impressive feat, especially considering that 2 of these 3 were rookies. Though our rank wasn't as stellar as it could have been, we were able to demonstrate TomBot's Tall-Mode and its capping abilities to the 1st seed team Hockabots and them and their alliance partner Technical Difficulties picked us during selections! Additionally, for the first time in the history of our robotics program, all 4 of our teams were selected during alliance selection for the semi-finals match.
Semifinals & Finals Matches
Ultimately, our alliance's performance in the semi-finals served us well into our advancement to the finals... until it didn't. Nearing the end of finals, our attempt to cap Technical Difficulties' tower ended up knocking over the stack. Fortunately, our alliance still ended up winning, but finding accuracy in our stacking, especially with regards to capping is something we plan to work on going into regionals. Currently, we have gone through 3 different capstones and capstone-droppers but those still require more testing in order to ensure our capping abilities improve by regionals.
After-Judging and Awards Ceremony
While we didn't have high expectations for our success, we did manage to garner several visits from judges to our pits. A good measure of judging success is if the judges come back to talk to you, and at UME, we had four separate groups of judges come up to us and ask us about each component of our team, from business, to outreach, to sustainability, to our robot design.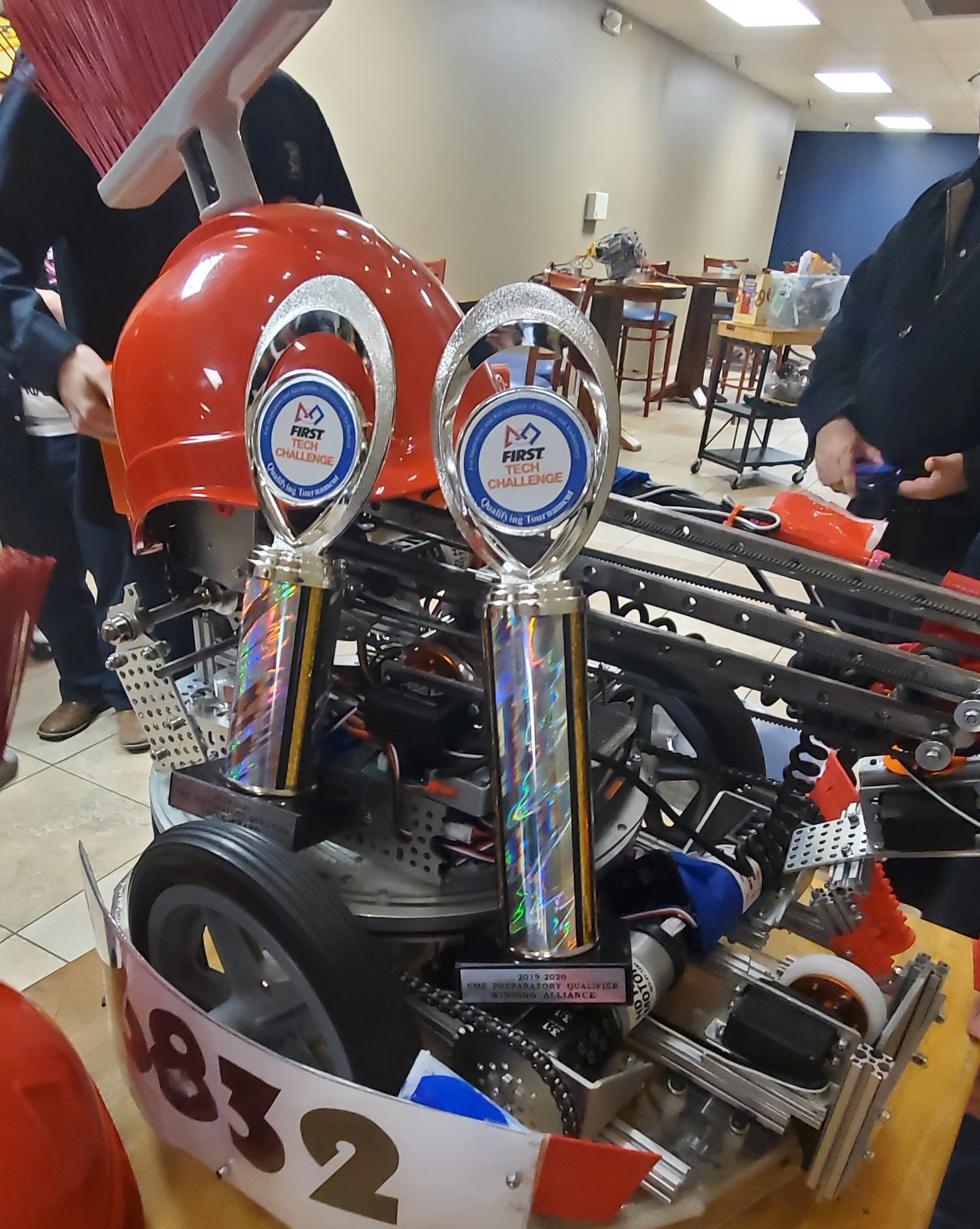 In the ceremony, every single member of the SEM Robotics program waited. With all 4 of our teams having made it to semi-finals, this was by far our most successful qualifier match-play wise. Since Iron Reign had already advanced at the previous Allen Qualifier, we were ineligible for the Inspire Award but we were still relatively hopeful. At the end of the day, we were finalists for the Design, Innovate, and Connect awards, closing off our day with 1st Place for the Think Award!
Next Steps
Although only one team from our program has advanced to the regionals, this season was successful both on a program and individual-basis. All three of our sister teams performed impressively well at the qualifier, and although their match seasons might be over, their robots still have a while to go. Next week Iron Reign is helping organize and coordinate a booth at the DISD STEM Expo, where all three of our sister teams will be demo-ing their competition robots to students with little to no STEM experience. As the season progresses, Iron Reign is looking forward to recruiting new members from our sister teams, 2-3 at the least. While this may have been our last qualifier, we still have a lot of progress to make leading up to the North Texas Regional Championship. Our post-mortem analysis detailing our performance at UME and preparing for our next tournament will be on our blog soon.
Date | January 11, 2020