Preparation for the Dallas Personal Robotics Group Meeting
Tags: connect
Personhours: 2

By Shawn
Task: Create a presentation for the Dallas Personal Robotics Group Meeeting Next Week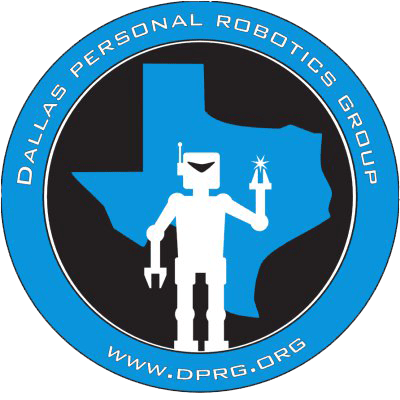 In a week, we will be giving a presentation to the Dallas Personal Group, or DPRG. The DPRG is an engineering-based organization in the Dallas area that has monthly meetings to discuss robotics. DPRG has been involved with Iron Reign for years now, and they have volunteered at our annual Townview Qualifier as well as hosted an exhibit with us at Moonday at the Frontiers of Flight Museum this season. They are one of the biggest engineering groups we have connected with this season. In addition, we have been giving them an annual presentation about our build season for the past 4 years, this year being our fifth time. Through our presentation, we hope to gain engineering-based feedback on our robot but also with regards to our overall presentation. Below, you can see DPRG's preview of our presentation at their monthly meeting.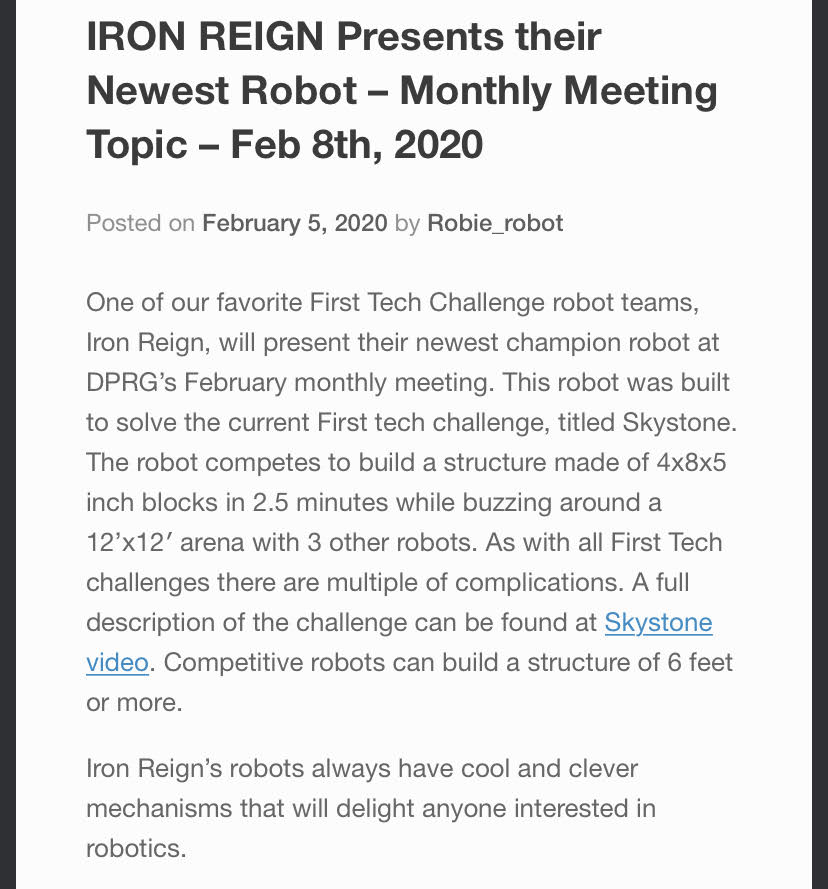 Part of the preparation for this presentation includes drive-testing TomBot and getting it ready for demoing. Last year, when we presented our season to them, they provided us feedback with our robot and our vision capabilities, which was pivotal to our accomplishments through the season. As such, alongside the demo, we will also be bringing our judging box, engineering journal and create a separate deck of slides for our code and vision progress this season.
Next Steps
The visit to DPRG will be a good opportunity to practice our presentation in front of an actual audience and ask for feedback on our robot and journal. We have been considering a custom binder cover for our journal made out of engraved aluminum, and we also hope to receive feedback on whether we should proceed with this new design or keep our existing binder for regionals. The article about how the presentation went will be detailed in a later post.
Date | February 1, 2020