Wylie East Regionals Post Mortem
Tags: think and organization
Personhours: 9

By Karina, Bhanaviya, Jose, Justin, Ben, Cooper, Mahesh, Shawn, and Trey
Task: Reflect on what went right and wrong at the regionals tournament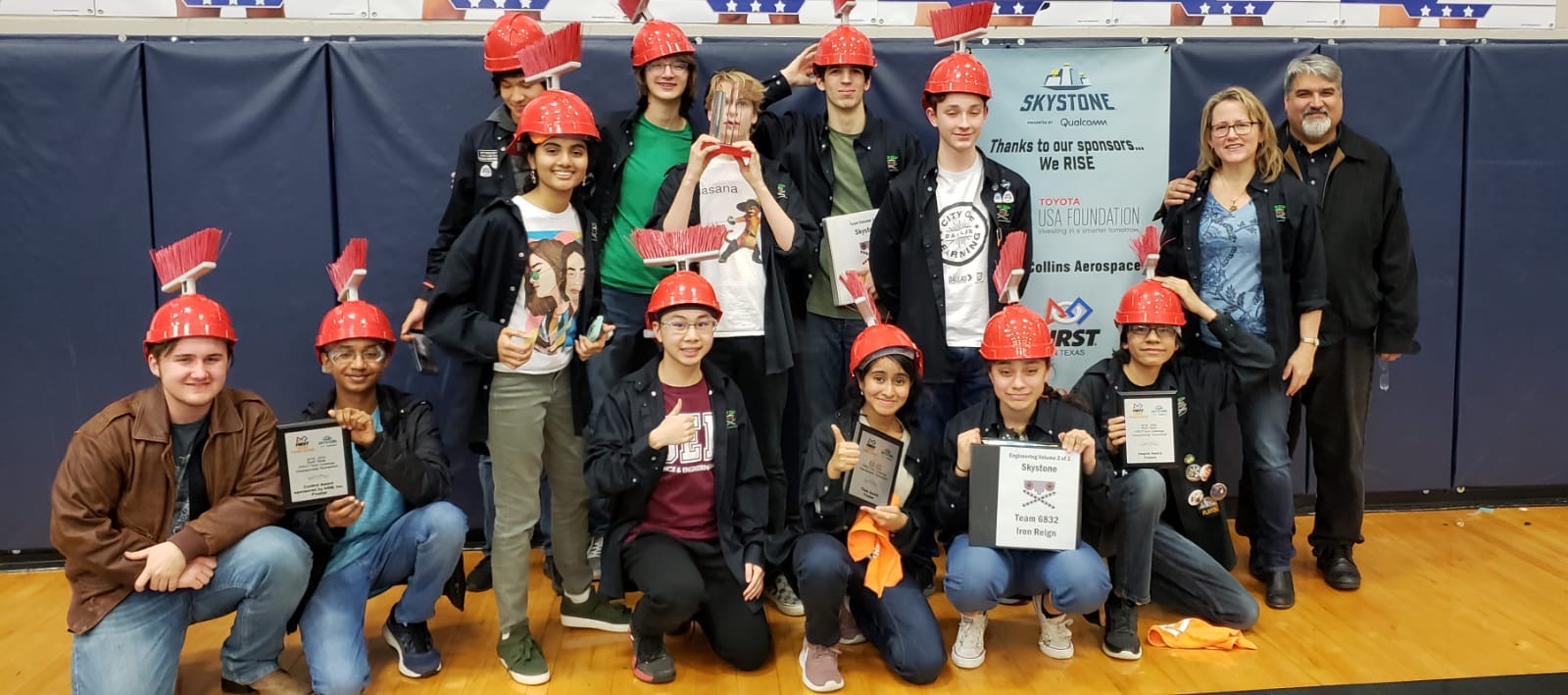 Iron Reign is so excited to be advancing to the World Championship. But there's no denying that across the board, we did not perform as well as we were expecting. Following the long day, first we feasted as per tradition. But then at a later time, we all sat down to discuss where things could have gone wrong, and found that in the weeks leading up to the regionals tournament, our team was already showing signs of underperformance. This is more of a long term issue that needs to be adressed, starting with in depth retrospection and a frank conversation among ourselves.
Preparation Strengths

We had more than two people packing
Journal was printed and tabbed and color-coded and everything the night before
We kind of had a packing list going
The gamer station we made proved to be worthwhile

Weaknesses

We did not check off of a packing list as we loaded the vehicles (we could have missed something)
Very little dedicated drive practice and so coordination between the two drivers was lacking
We goofed on printing the timeline that shows events we have gone to, professionals we have met with, progression of the robot, etc.

Opportunities

log drive practice hours and scores
Aim to have a code freeze so driver don't have to deal with unexpected changes
Split the robot manual into two different documents: one that shows and summarizes each subsystem and one that lists step by step how to build TomBot
Fix the loose broom heads on the hats (but this is definitely not a priority)

Threats

Not having everything with us due to travel restricted packing

Judging Strengths

We got 3rd place Inspire, 3rd place Think, and 1st place Connect which we can probably say was due to the engineering journal and our presenting skills since our robot performance was not stellar
At this point we've had a lot of practice
Handing judges materials from our presentation box at the right times
Manual demo of the robot was successful
We got across all of our more important presentation material before the 5 minutes were up
Anything that we didn't get to during the five minutes we were able to cover in questioning

Weaknesses

Since we were tired, we sounded kind of low energy and unenthusiastic
At the same time, we were talking super fast trying to get through all of our content
There was not much interest in our robot demo

Opportunities

Rework our presentation to focus on the most important information (at this point we have realized we will not have enough time to talk about everything we have done this season)
Make good use of the questioning time - invite the judges during the initial 5 minutes to ask questions about our team's highlights after the 5 minutes are up

Threats

The 5 minute time restriction
Lack of sleep bringing down our energy levels

Pits Presentation and Conduct Strengths

Our pit setup was super clean with everything hidden away under table covers, and our posters and aquila
We had people stationed at the pits at all times to receive any judges who had questions
Some people were drawn to our pits because of our hats!
People also came to our pits when we displayed match results on our monitor

Weaknesses

We didn't have a good scouting strategy and the scouting team was also lacking sleep
Not everyone got an opportunity to speak during pit interviews
As far as we understand, we did not get any pit interviews from design focused judges (we need to sell this more during judging)
Though displaying match results attracted people, it also created traffic in our pit area

Opportunities

Have a working rotation of people at the pits, scouters, people watching matches, etc.
Have a more active scouting team
Redesign some of the older cross banners
Still display match results but find a way to minimize the mess created by this

Threats

Not having scouting
Not making conversation with other teams/forming connections
Poor pit organization
Team members being off task in the pits

Robot Performance Strengths

Physically, the robot worked alright
The foundation grabber worked
Parking also worked

Weaknesses

We did not do a good job demonstrating the components that did work
We had to slap Snapdragon down multiple times on a stone before it would snap closed over the stone
The polycarb base plate is heavily cracked and needs replacement
While a lot of our autonmous functions worked in theory, they were untested, and so naturally they did not work
In one of our matches we lost functionality of the arm because a wire came loose
Capstone was never deployed
The mounts for distance sensor was bent
Drivers were unfamiliar with autonomous set-up

Opportunities

Design a new 3D printed part for the gripper that triggers the snapping motion more effectively than the bent metal strip we have now
Cut and bend a new polycarb base plate
Better wire management
Adding LEDs - make TomBot look more snazzy
Add more sensor-assisted capabilities, such as stone retrieval

Threats

Having to overcome the bad impression we gave at Regionals for the World Championship
All the teams who have a super fast wheel intake
While there is a fair amount of time before the World Championship in Houston, we don't want to get too comfortable. We will be using the list above as a broad guide as to we should accomplish for the championship. We will be increasing the amount of afterschool meetings we have to develop autonomous and practice driving TomBot. The UIL tournament will serve as a good place to practice in a very realistic setting. Additionally, we are excited to be creating TomBot V2 for the World Championship, and seeing if we can create as iconic a reveal video as the previous year's.
Date | February 22, 2020