The First Launcher
Tags: design and innovate
Personhours: 5

By Trey and Paul
Task: Create and Test a Arm Disk Launcher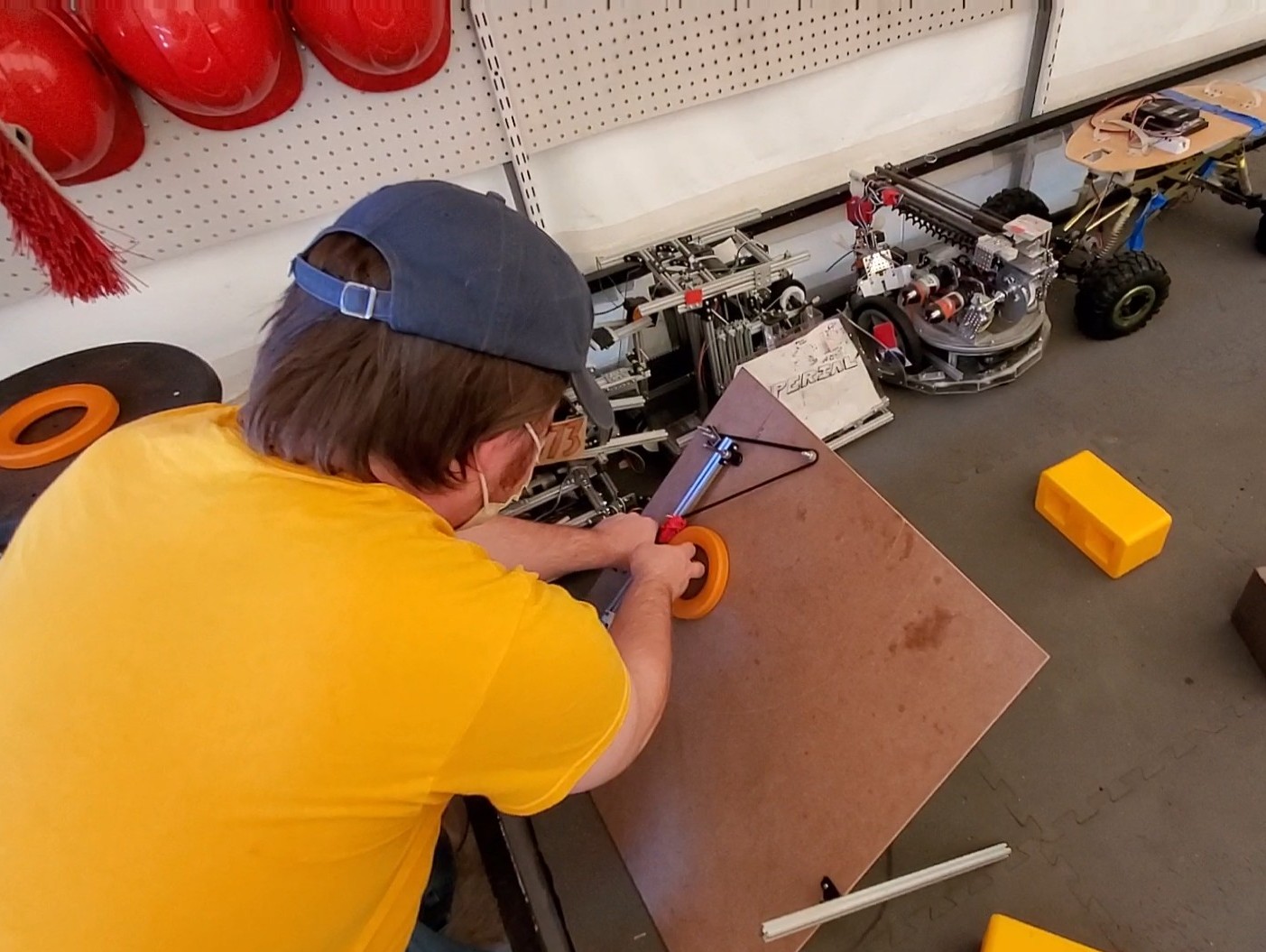 One of the centerpieces of any robot this year is going to be the disk launcher. It's likely that most robots in the competition are going to be built around their launchers, so one could logically conclude that that's a good place to start when building a robot. This is no different for us; however, we didn't just want to build a flywheel like most other people. Instead, we started to look into other designs. One of the designs that came into mind first was some sort of arm that is powered by an elastic or bungee cord that throws disks sort of like a clay pigeon thrower.
But why did we start with an arm design? Wouldn't a flywheel be easier? We started with an arm because we thought it was interesting and customizable. Yes, a flywheel would be easier but that would be at the cost of customizability. With a flywheel, there is only so much to change. You can change pretty much only the motor, the wheel, or the speed of the motor. This is good for a team that just needs a launcher that works but we want to be able to make a customizable launcher that we can tailor to our needs easily. There is a lot of open space and customizability with an arm launcher. For example, we can change the arm material, length of the arm, strength of the bungee, the time the disk is in contact with the arm, and much more.
So that's what we built and it works to a degree. Yes, it does launch a ring, in fact, it can launch a ring across the field to a height of 55 inches at an angle of 44 degrees with an easily retractable arm; however, in its current state it breaks easily, isn't consistent, and is quite big. The first two are fairly easily fixable because they are mostly because the base of the launcher is made out of particle board which falls apart easily but the last one isn't quite as easy to fix. Cramming this design into a smaller space could provide a difficult challenge. The function of the design is to accelerate a ring over a distance with an arm which can be difficult in a small area because with a smaller arm you have to use a stronger bungee to achieve the same results.
Next Steps:
I have only touched on a few major things to be improved. There are quite a few; however, the results that we observed from this design definitely warrant a second version, and there will be one. At the very least, I am thinking of new designs and improvements for this system. There are also many other things we can try and I know that regardless of what I have said about a flywheel launcher so far, it would have its advantages, mainly compactness, so I know we will definitely build one of those as well. There is still much more to be made and built for this robot.
Date | October 10, 2020