A Prerequisite Chassis to Robot In 3 Days
Tags: mechanical, innovate, and design
Personhours: 16

By Trey, Cooper, and Aaron
Task: Build a robot that can be adapted to any challenge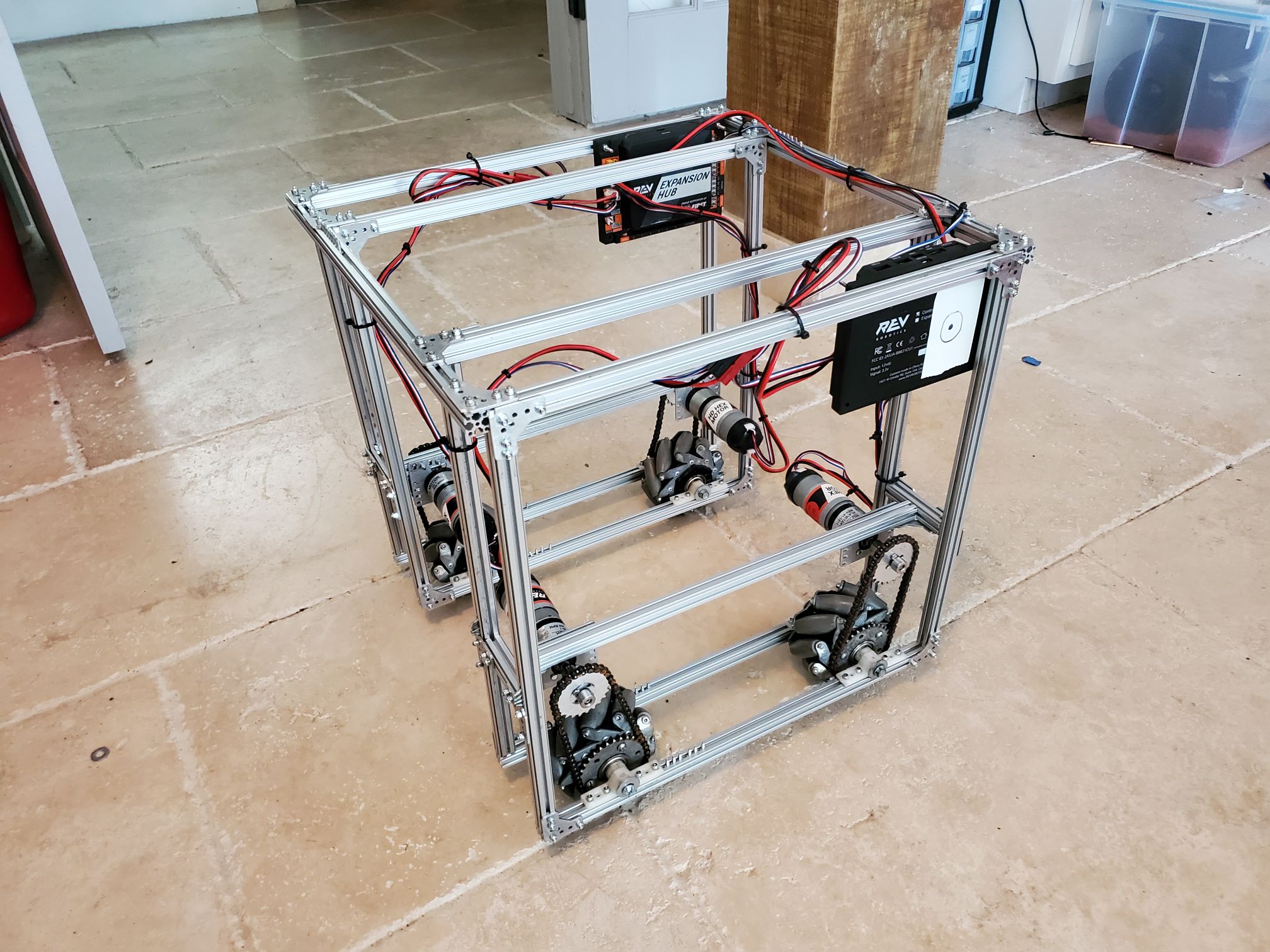 The challenge reveal is going to be quite soon. In the weeks leading up to the challenge reveal we began to wonder if there was anything we could do that would make our transition from preseason to prototyping any better. And obviously, there are many things we could do that would make our work easier when the time comes to see the new challenge. Mainly, we were thinking that since we do a robot in three days when the challenge gets revealed, it would be beneficial to have a robot chassis that could be used in most challenges and be adapted to the specifics of this year's challenge. A robot like this should be easily maneuverable and have an arm or subsystem capable of interacting with ordinary objects. That's where the idea for this robot came from.
N-bot is the solution to this problem. The idea for N-bot was that we should have a chassis that can drive over elements and manipulate them within the walls of the robot. In order to do this, we created a robot in the shape of a lower case n that can drive over objects. Ideally, the next step would be to give it an arm that can manipulate anything it can drive over; however, we did not have time to complete this. Instead, what we ended up with was a chassis in the shape of a lowercase n.
For wheels on this robot, we decided that mecanum wheels would be the best choice since we would be able to move in all directions on the field with them and position ourselves accurately over objects. Those four wheels are chained to motors and paired together in wall-shaped blocks that are linked together on top by 4 structural extrusions. The overall shape of the robot appears to be sturdy; however, it is actually quite flimsy. Linking two halves of a robot with only 4 beams on top is not a great idea if you're looking for a rock-solid design. Instead, our robot tends to flex and shake but that's ok because those issues are manageable. We sacrificed the structural integrity of our robot for ease of adaptation to challenge specific tasks.
Next Steps:
The next steps for this project are clear: we wait for the challenge to be revealed and then we adapt N-bot to that challenge with any number of additional subsystems. We are planning on only using this robot for our robot in 3 days challenge and nothing else so none of the subsystems we produce will be used at any other point in the year.
Date | September 12, 2021