Meeting with the Head of the Dallas College STEM Institute
Tags: connect, outreach, and journal
Personhours: 10

By Aarav, Anuhya, Georgia, Arun, Jai, Krish, Trey, Vance, Leo, and Gabriel
Task: Meet with the Dallas College STEM Institute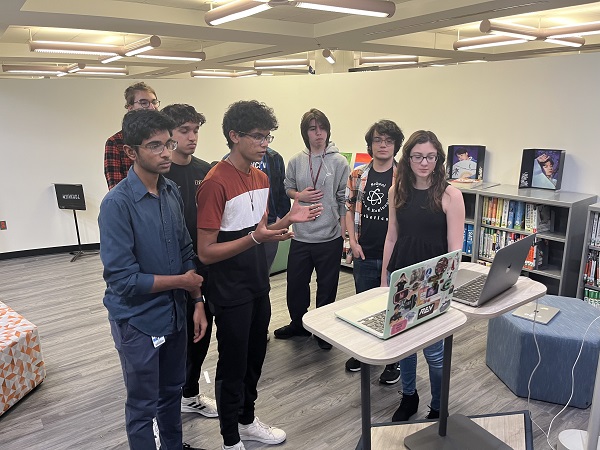 Today, team 6832 met with Jason Treadway, Head of the Dallas College STEM Institute and a former structural engineer. We virtually presented our robot and outreach efforts and were able to both intrigue him and received important input from him.
Overall, Mr. Treadway was quite impressed with our presentation, robot, and efforts to not just "design for ourselves," but also educate the community on robotics. He was a large fan of the recruitment pipeline we established with Dealey Robotics and our 2 JV teams.
In terms of advice on the presentation, he suggested that we focus on adapting our images to help better highlight the differences between V1 and V2, possibly a side-by-side comparison that would appeal to visual learners and help them better see the evolution. He also found some of the diagrams of the drivetrain potentially confusing, and stated that adding dimensions and more detail would make them clearer and add a point of reference.
Finally, we discussed our outreach and motivate efforts, and Mr. Treadway asked about how we found out about outreach opportunities. As a team, we definitely do a lot of networking and make an effort to talk to people and build strong relationships. We also have mentor connections, utilize cold emails, and personal connections that we do our best to take advantage of. We were also advised to follow up with our Waymo connection and possibly get a tour of their local Dallas location.
Mr. Treadway also offered us a possible later connection opportunity, where we could come to the Dallas College Brookhaven campus to present our robot to college students in early April. Overall, it was a very informative session and we would like to thank Mr. Treadway for his time and advice, and we will definitely take it into account as we head to State.
Date | February 28, 2023