FTC World Championship 2023
Tags: control, innovate, journal, think, and motivate
Personhours: 468

By Anuhya, Jai, Alex, Trey, Gabriel, Vance, Leo, Tanvi, Georgia, Krish, Arun, Aarav, and Sol
Our Experience This Year at Worlds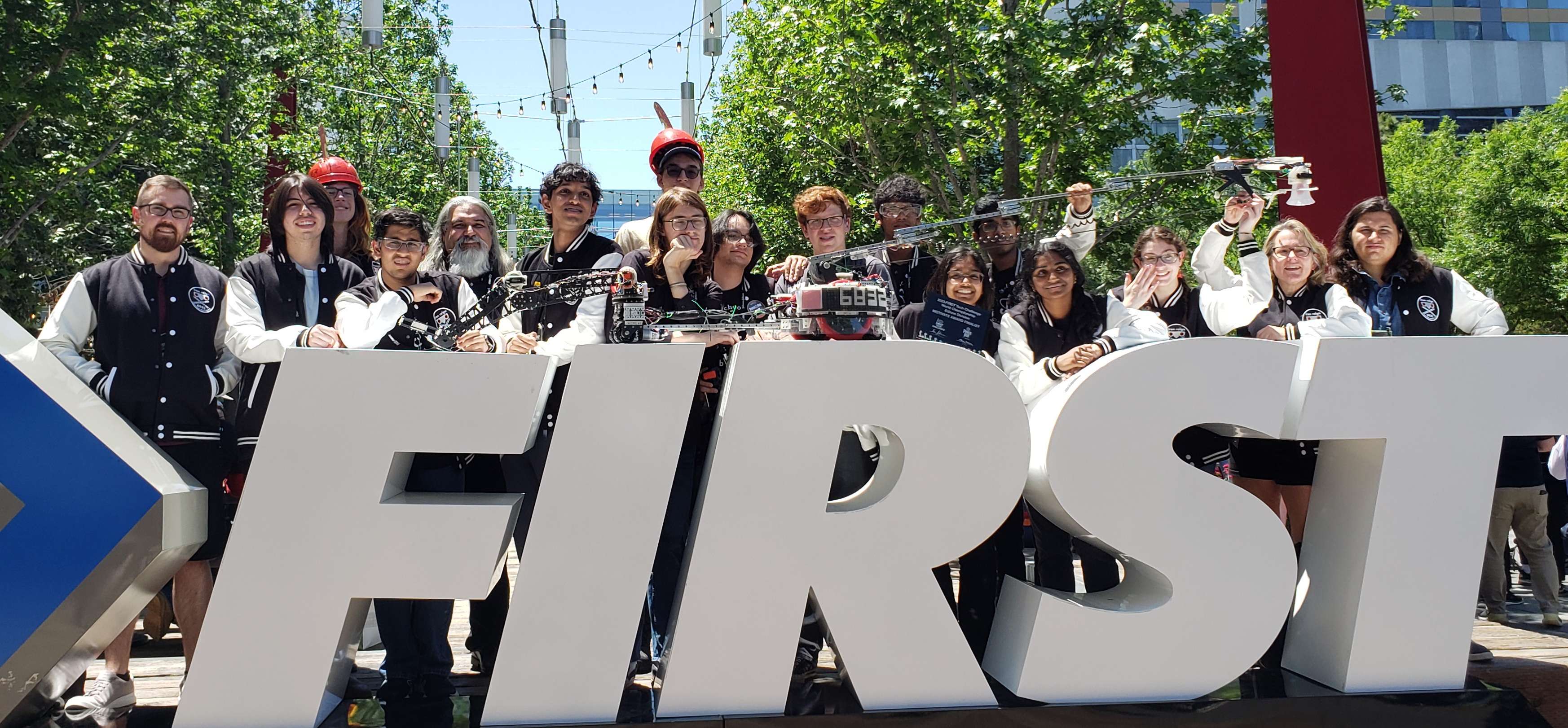 Over this past week, we had our final preparations for the FTC Worlds Championship in Houston, Texas, which was our final destination after everything we'd done this season. This Championship was an incredible opportunity for us to interact with teams from around the world, and establish relationships with teams we never would have been able to meet otherwise. It was an incredible outreach opportunity, where we talked to teams from Romania, India, Libya, and other countries with different approaches to how we did robotics. At the Regional Edison Awards, we won 2nd place Motivate!
What was productive at worlds?
The build of the robot was much closer to being done than it had been at previous tournaments. We were also relatively confident in the capabilities of our transfer system, especially with the implementation of the Transfer Plate. We were also prepared with replacement parts fully made and manufactured, so we knew we would be able to replace the UnderArm if something went wrong with one of the arms.
What was beneficial to our team?
The time and effort we put into our portfolio as a team was definitely one of our strongest points. We were prepared for how to interact with judges, and we had also practiced our answers to some possible questions we could get. By showing the judges how our team was set up and the true nature of our compatibility and cooperation, we were able to leave a lasting impression.
We also had a pit design which was made to help our productivity, with shelving to organize our tools and supplies, tables set aside for different purposes and stools to maximize space within the tent. It also helped us convey a good team image to the other teams who were present at Worlds, and gave us a place to talk about our robot design and game strategy. The posters which were put up in our pit were also very effective, because they were great conversation starters. Teams were very interested in seeing our robot design and getting an explanation for some of our decisions when they saw the engineering banners which were put up at eye level.
How do we want to improve?
One large issue that we had throughout the entire season was our robot was never fully prepared when it was time for the tournament. We didn't have the opportunity to have driver practice throughout the season, especially with the new robot and the new design, so we found a lot of issues at the actual Worlds Championship that we should have found and fixed way earlier. We also burnt out many of our axon servos at the tournament, and scrambling to find more because they were the basis of our UnderArm was not a good look for the team. One of our primary goals for next year will definitely be finishing the robot on time, so our drivers have a good opportunity to get drive practice. At the Championship, we also barely passed inspection. Because we didn't have enough time to ensure that our robot fit under sizing when it was initialized, we had to get inspected a second time. Overall, we want to make sure that we are fully prepared for all tournament procedures in the upcoming season, so we don't have as much of an issue during the actual tournament.
Our packing and organization also left something to be desired, because we didn't start packing until 1 or 2 days before the tournament. While our pit design was effective, we didn't have a chance to practice it beforehand, and we could have made some design changes and improvements if we had practiced it prior to the tournament. Even though we had shelves, it took us 20 to 30 minutes to find tools and that was incredibly frustrating when we were in a time crunch.
Something else we were lacking in was communication between different subteams. One of our largest problems was that the coders weren't given enough time to work on the robot because the modelers and builders weren't entirely sure about when prototypes would be available. We also sacrificed a lot of sleep because we weren't ready to compete when tournaments came around, and it wasn't sustainable throughout the year and led to a lot of burnout. Our morale was also low because of deadlines and not having a sustainable work ethic.
Next Step:
The next season started the day Power Play ended. Over the summer, we have plans to start recruitment and outreach early, and set up boot camps to get the new members of our team more specialized and ready for the next season. We also wanted to get the MXP up and running, so we would have more mobile opportunities to teach kids how to code and use 3D printers and just set up more outreach events. We've also started setting up organization softwares and setting up different team roles to maximize organization in the following seasons.
Date | April 25, 2023