By Evan, Abhi, and Janavi
Task: Enhance our robot-building skills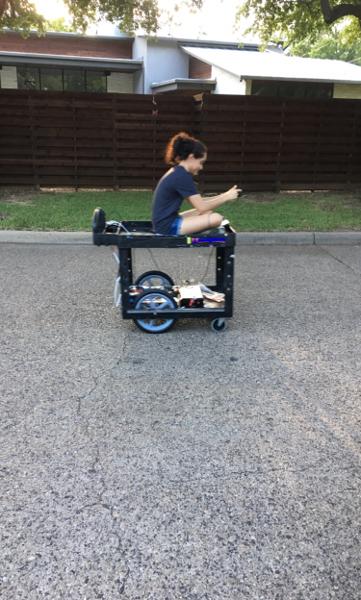 At Iron Reign, we hate to waste the summer since it's a great time to get all the ridiculous builds out of the way. Thus, we created C.A.R.T. Bot (Carry All our Robotics Tools). Our constant companion these last few seasons has been our trusty Rubbermaid utility cart which has been beaten and abused, competition after competition, as it carried all our tools and robots. Because of all of this, we decided it was time to show the cart a little love, and in typical Iron Reign fashion, we went all out and turned it into a robot.
Our first step was to switch out the back wheels on it to elf-sized bicycle wheels, allowing us to take on the mightiest of curbs and motorize it. To attach the wheels, a four foot or so cylinder of threaded steel was inserted in holes on either side of the cart. Two slots were cut out in the bottom for the wheels and they were eventually slid on, but not after 3D printed mounts for sprockets were attached to the wheels, enabling us to gear them in a one to one ratio with the sprocket attached to the motors, which consisted of two SIM motors commonly found on FRC robots.
Before we used SIM motors, we attempted to power the cart using two Tetrix motors which were geared for speed but, due to load, barely moved at all. Besides a lack of power, they also tended to come out of alignment, causing a terrible noise and causing the cart to come to a stall. This was quickly scrapped. To mount the motors, we used two pieces of aluminum bars and bolted them to the motors, then screwed them to the floor of the cart, aligned with the wheels. We chained them together and got about powering the system. We got two 12-volt batteries and chained them in parallel so as to not overload the system, and hooked them up to a REV hub. Then, we ran them through a switch and breaker combination. We connected the motors to the rev hub and once we had it all powered up, we put some code on it and decided to take it for a spin.
It worked surprisingly well, so we went back in and put the finishing touches on the base of Cart Bot, mainly attaching the top back on so we could put stuff on top of it, and cutting holes for switches and wires to run through, to make it as slick as possible. We added a power distribution station to assist with the charging and distribute current to any device we decided to charge on the cart. We will eventually hook this up to our new and improved battery box we plan on making in the few spare moments we'll have this season, just a quick quality of life improvement to make future competitions go smoothly.
Next Steps
Our cart box isn't done yet, as we intend to make a mount for a solar panel, which we will be able to charge the cart during the downtime in competitions (only if there's a good window we can park it next to). The cart wasn't just about having a cool new and improved cart that we don't have to push (which it is), it also was a test of our engineering skills, taking things that never should have been and putting them together to make something that we will utilize every competition. We learned so much during this experience, I for one learned how to wire something with two batteries as not to destroy the system, as for everyone else, I can't speak for all but I think we learned a very important lesson on the dangers of electricity, mainly from the height of the sparks from an accidental short that happened along the way. Despite this, the cart came out great and moves smoother than I ever could have hoped. The thing is a real blast and has provided a lot of fun for the whole team, because yes, it is ridable. We predict the speed it's set at is only a fifth of its full potential speed, and since it already goes a tad on the fast end we don't intend to boost it anymore while there's a rider on it. Overall, the project was a success, and I'm personally very proud of my work as I'm certain everyone else is too. Come to see it at our table, I really think it's worth it.