Last week at the FIRST Tech Challenge (FTC) Robotics World Championship in Houston, Team 6832, Iron Reign, from the School of Science and Engineering in Dallas ISD earned the Motivate award which ranks them at the top in the outreach category.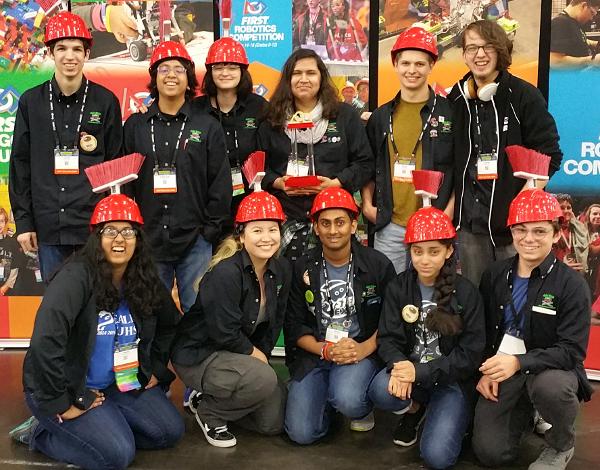 Top Row: Justin Bonsell, Christian Saldana, Charlotte Leakey, Tycho Virani, Evan Daane, Austin Davis
Bottom: Janavi Chadha, Kenna Tanaka, Abhijit Bhattaru, Karina Lara and Ethan Helfman
coached by Karim Virani, Cathy Lux and Calvin Boykin
Each of the 5,200 active robotics teams this year is expected and encouraged to share their passion for robotics and all things Science, Technology, Engineering and Math (STEM) with younger students who haven't had the same opportunities. One hundred and twenty eight of these teams from around the world earned spots at this championship, including teams from the USA, Canada, Mexico, South America, the Middle East, the Pacific Rim and China. Iron Reign received this recognition for their work in creating, operating and sustaining the Mobile Tech eXPerience, an RV that they converted to a mobile STEM lab in order to support the work of Big Thought and the Dallas City of Learning Initiative.
On board the vehicle, students can learn to program one of sixteen sumo robots, design 3D objects and print them on one of the four 3D printers, learn to program in Scratch or create virtual worlds in Minecraft. The robotics team converted the vehicle and helped run the pilot program in summer 2016. This school year their goal has been to help Big Thought sustain the vehicle by continuing to support deployments, improve the curriculum and simply "make it loud." And now Big Thought is taking vehicle operations year-round. With this vehicle and accomplished instructors, Big Thought is bringing STEM exposure into under-served neighborhoods to help young students think of themselves as future engineers, scientists or technologists. This year alone the team has contributed 680 hours supporting 15 deployments of the vehicle to neighborhoods and large events. They've taught or spoken with over 3,400 students or parents at these events, and they've shared curriculum and the story of the vehicle nationwide by participating at the National Science Teachers Association STEM Expo.
This video will tell you more about the MXP from the perspective of the team members:
In the robot game the team finished 26 of 64 teams in their division, a good showing for a first-time Worlds team with a new young drive team. And Dr. Woodie Flowers, lead mentor of FIRST and Professor Emeritus at MIT signed and kissed our robot:
The team is fully appreciative of all of the support they've received this year. Special mention goes to Big Thought, Jeff Marx and Joe Schelanko of the Dallas ISD STEM Department, the SEM PTSA, the School of Science and Engineering staff and our advisor Calvin Boykin, Principal Andrew Palacios, Executive Director Tiffany Huitt and the tireless parents of all team members.
Please see the team website for more information. The team will be going to the UIL State Championship in Austin on May 18. Finally, here is our robot reveal: