18 Apr 2019
By Jose, Ethan, Charlotte, Janavi, Abhi, Evan, Karina, Justin, BenB, Bhanaviya, Cooper, Aaron, Arjun, and Paul
Task: Set up our Worlds pit, complete inspection and judging, and compete in robot game matches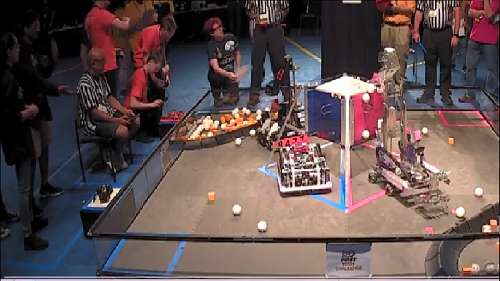 Presentation
Our presentation went well. We were able to get all of our information across effectively in a shorter amount of time as usual, but this led to more time for questions , which the judges had a lot of. Throughout questioning, we were able to hand off questions so that no individual member dominated the questioning time.
One problem we had with the presentation was that the rooms were constructed within the competition hall with fabric, just like last year. This made it so that sound did not carry very well within the rooms, and that sound could carry over from other rooms, so the judges had difficulty hearing us at some points which was especially worse when we spoke too quickly. Despite this, we're confident that the majority of the information came across.
Match 1(Q12)
We lost 290-95. Our poor planning led to the drive team having phones with low batteries and being unable to play in the match and Rhoming Robots were unable to carry us in this 2v1 match.